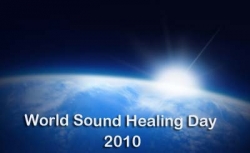 Boulder, CO, January 26, 2010 --(
PR.com
)-- Join thousands of voices throughout the planet for the 8th Annual World Sound Healing Day on Sunday, February 14, 2010. At 12 noon Eastern Time, sound forth for 5 minutes with the "AH" created and projected with the energy of harmony, compassion and love—sent as a Sonic Valentine to Gaia, our Mother Earth. At that time, please go to
www.templeofsacredsound.org
to enhance the vibratory effect as we sound together our prayer for planetary peace and harmony. Visit
www.healingsounds.com
for more information.
"There is a prophecy leading to 2012 that suggests when people sound together with their voice as a singing prayer for world peace and harmony, it can have a significant effect in restoring peace on earth. The sonic meditation of World Sound Healing Day is so important for the healing of our planet. World Sound Healing Day energizes the peace and transformation that all people seek for planet Earth. With our wisdom and intentional sound, we can affect dire 2012 predictions in a helpful way – The Way of Compassion, Love and Lasting Peace," says Healing Sounds pioneer Jonathan Goldman.
Goldman believes people making sound together can help create peace on the planet. On February 14th, Goldman and thousands of other like-minded individuals will send a Sonic Valentine to the Earth - "World Sound Healing Day." For five minutes, meditators, peace activists, sound healers and many others throughout the planet will project the heart sound "AH" filled with the intention of peace and love.
"The "AH" is a universal, non-denominational heart sound that when projected with focused energy is extremely powerful and effective," Goldman says. He has found that creating a global sound such as "AH" will create a transformational wave of energy that will positively affect the entire Earth.
An internationally acclaimed author of Healing Sounds, The 7 Secrets Of Sound Healing and the new Hay House release -
The Divine Name: The Sound That Can Change The World
- Jonathan Goldman is also an award winning musician (including "Chakra Chants," "The Divine Name," "Ultimate Om" and "2012: Ascension Harmonics"). Goldman has found that sound coupled with intention has the ability to heal and transform: He notes that "The Global Consciousness Project at Princeton University has measured the effects of global meditations and found a correlation between peaceful activities on the Earth and these meditations. We've added sound to this in order to enhance the effects of global meditation." Here are the results of last's year World Sound Healing Day:
http://www.healingsounds.com/sounds/wshdResults2009.asp
. Goldman adds, "The results are impressive. There is a reason most sacred prayers are chanted aloud: sound amplifies the power of conscious prayer. It's that simple!"
This 8th annual World Sound Healing Day, like its predecessors, will consist of both individual and group sound activities occurring throughout the planet. Thousands of people, not only in the United States, but also in many countries in Europe, Asia as well as Australia, will be sounding with the intention of creating peace and harmony on Earth. Jonathan Goldman has created the world's first interactive website
www.templeofsacredsound.org
, where visitors can hear themselves sound along with others throughout the planet. Goldman says: "This website enables people throughout the world to sound together. It really enhances the affect of the sound that is created."
For more information on Jonathan Goldman and World Sound Healing Day, please visit:
www.healingsounds.com
. There you will find a "Planetary Healing Sounds" section with articles on suggested sounds, visualizations and toning techniques as well as well an "AH" sound you can download and tone along with. Look for us on Facebook, MySpace and Twitter. Contact Andi Goldman at (800) 246-9764 / (303) 443-8181 or via email: info@healingsounds.com.
Jonathan Goldman is available for interviews.
Contact: Andi Goldman
(800) 246-9764 / (303) 443-8181
###