TRENTON Single Board Computer Delivers 5x Memory Performance and 2x Interface Speed Increases
Trenton's New JXT6966 Single Board Computer Features Dual, Quad-Core Intel® Xeon® Processors C5500 Series with Integrated Memory and I/O Controllers Plus PCI Express® Gen 2.0.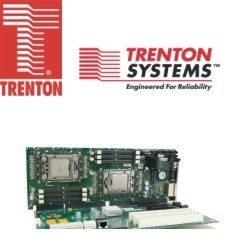 Atlanta, GA, February 12, 2010 --(
PR.com
)-- The
Trenton JXT6966
incorporates two of the latest Intel® Xeon® processors C5500 series featuring Intel's latest microarchitecture, formerly codenamed "Nehalem," and PCI Express® Gen 2 functionality into a versatile single board computer (SBC) form factor. The SBC's unique system memory and option card interface design features coupled with the new architecture of the Intel® Xeon® processor C5500 series, provides impressive system performance improvements compared to previous generation SBCs. The JXT6966 is the first of its kind PICMG® 1.3 system host board (SHB) that automatically configures its PCI Express links to function with either PICMG 1.3 server or graphics-class backplanes. The SHBs six memory sockets support the latest PC3-10600 DDR3 Mini-DIMM technology to deliver maximum system performance with low power consumption. An exclusive Trenton innovation enables the JXT6966 to provide expanded PCI Express Gen 2 interface support to extend
rackmount computer system
capabilities.
Trenton engineering designed the JXT6966 with two rear-mounted board stiffener bars that run the length of the SHB. This board feature ensures proper board alignment in a system and protects the board components in high vibration environments.
Every processor option on the JXT6966 is available with extended-life availability and support to ensure long-term support of embedded system designs. The Intel® Xeon® processor C5500 series provides quad-core, multi-threaded performance with increased thermal efficiencies while maximizing a system's Space, Weight and Power (SWaP) savings. These processors feature both integrated memory and I/O controllers that also helps reduce power consumption and reduce the amount of components needed on the SHB. Additional processor features include the Intel® QuickPath Interconnect, Intel® Virtualization Technology and integral PCI Express Gen 1.1 and Gen 2.0 interface links.
"The design innovations built into the Trenton JXT6966 result in an extremely clean board design," said Bill Bowling, Trenton V-P and General Manager. "The JXT6966 combined with these latest Intel® Xeon® processor offerings enable rugged system designs with a stable and validated high performance computing platform to meet our customer's application challenges."
"The quad-core Intel® Xeon® processor C5500 series are designed specifically for embedded and communications and optimized for space and energy efficiency," said Frank Schapfel, director of marketing, Intel Performance Products Division. "These new processors are ideal for use in PICMG® 1.3 compute-intensive embedded, military/defense, medical imaging and communication system designs."
Other JXT6966 Features
The JXT6966's dual LGA1366 sockets support all of the long-life, embedded Intel® Xeon® C5500 series processor options. The Intel® QuickPath Interconnect on the JXT6966 supports 5.87GT/s and 4.8GT/s processor options.
The six DDR3 DIMM sockets on the JXT6966 support a maximum theoretical capacity of 192GB. Today's 4GB DDR3 Mini-DIMMS deliver a max capacity of 24GB, which will expand to a 48GB capacity, as 8GB DDR3 Mini-DIMMs become available. The JXT6966's six-channel memory interface supports ECC registered and unbuffered PC3-8500, or PC3-10600 Mini-DIMMs.
The PCI Express links on the JXT6966 edge connectors A and B support twenty lanes of PCI Express Gen 1.1 or PCIe Gen 2.0 links to either a PICMG 1.3 server or graphics-class backplane. These links automatically configure themselves based on the interface specifics of the backplane's PCIe routings to the card slots and devices. Trenton's JXT6966 supports PCIe x16 video and graphics cards as well as multiple x1, x4 or x8 PCIe cards common in interface switch and data storage cards.
The JXT6966 provides an additional 16 lanes of PCI Express Gen 2.0 support when using a Trenton PEX10 Expansion Board and a Trenton BPC7009 backplane. Contact Trenton for additional backplane options that support this JXT6966 PCI Express Gen 2 expansion feature.
Other Trenton JXT6966 board features include three 10/100/1000Base-T Ethernet interfaces, eight USB 2.0 interfaces, an internal video interface driven by a 8MB graphics processing unit and six SATA II/300 interfaces with RAID support.
Pricing and Availability
Pricing discounts and processor speed availability varies. Contact Trenton for the latest information on pricing discounts as well as volume and OEM purchase programs.
About Trenton
Trenton is a designer and manufacturer of single board computers, system host boards, backplanes, and complete industrial rackmount computer systems for critical embedded computing applications. Applications from the military, DoD, medical instrumentation, and industrial control that require performance, precision and reliability all depend on Trenton products. Trenton is a member of the Intel® Embedded Alliance, a community of communications and embedded developers and solution providers.
Trenton offers PCI Express, PCI-X, PCI, ISA and MicroTCA® board and system-level industrial rackmount computer products designed and manufactured in ISO 9001:2008 certified USA facilities. All Trenton Technology PICMG 1.3 products are backed by a full five-year warranty and Trenton's no charge technical support.
For more information about our company, or any Trenton product, call (800) 875-6031 or (770) 287-3100. Please visit our website at
www.TrentonTechnology.com
.
Intel and Xeon are trademarks or registered trademarks of Intel Corporation or its subsidiaries in the United States and other countries.
PCI Express is a registered trademark of the PCI-SIG.
PICMG is a registered trademark of the PCI Industrial Computer Manufacturers Group.
All other product names are trademarks of their respective owners.
###
Contact
TRENTON Technology, Inc.
Jim Renehan
770-287-3100
www.TrentonTechnology.com
Toll-free number in the U. S. at 1-800-875-6031

Contact
Multimedia
The Trenton JXT6966 is a single board computer featuring dual, Intel® Xeon® C5500 series processors. The SBC features quad-core processors based on the Nehalem microarchitecture and a power-saving single component chipset design. Six DDR3-1333 Mini-DIMMs with direct processor access are supported.