New Humorous Residential or Commercial Real Estate Book Gives Home Buying Tips and Home Selling Advice
Why I Buy Real Estate Instead of Golfing is a poignant but funny residential or commercial real estate book with home buying tips and home selling advice filled with "what not to do" to avoid a disaster in your next real estate deal.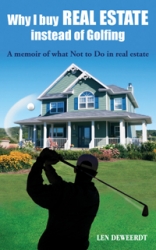 Canandaigua, NY, February 23, 2010 --(
PR.com
)-- Real estate advice is a serious thing, and a residential or commercial real estate book can leave the reader feeling confused, or emotionally drained. Having a human approach with first hand experience is refreshing, giving you frank real estate advice with quick and easy home buying tips is what the author achieves.
"I wanted to include real life stories with home selling or home buying tips," author Len DeWeerdt, a native of Western New York says. "This lighthearted real estate book, while factual, is a humorous memoir experience of What Not To Do."
Buying residential or commercial real estate is part of the American Dream, and is no laughing matter. There are many things to look out for, and the author compiles some home buying tips and some home selling tips for anyone who is thinking of investing in real estate. Reading a residential and
commercial real estate book
with reflections about the experiences of someone who has seen everything first hand may shed some light on not so obvious topics, and can prepare buyers or sellers for their next venture.
The book is handy for real estate offices, and can also be a great gift for friends or colleagues.
About Len DeWeerdt:
The author attributes the book's basis to growing up in the "trusting" 1950's in a small central NY village. Trust in real estate is an oxymoron and yet after some twelve transactions, the author is still buying. Despite that fact, Len has been happily married for 35 years, with three great kids and four fabulous grandchildren.
These home buying and selling advice are from the author himself, who feels that sharing real estate tips can prepare anyone for more secure financial future. To see read an excerpt or to purchase go to http://www.outskirtspress.com/webpage.php?isbn=9781432744373
###
Contact
Lens World
Len DeWeerdt
585-394-8010
www.lens-world.net
585-739-6500

Contact