The Twelve-Step Recovery Program and How It Can Help You or Someone You Love Overcome Addiction - New Book Released by Dog Ear Publishing Author Bruce Brown
Understanding Twelve-Step Programs - a Quick Reference Guide uses quick, concise chapters to explain the basics of the twelve-step program and what it entails. This new book is written by Bruce Brown and published by Dog Ear Publishing.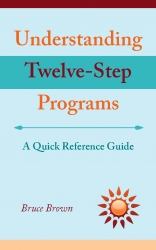 Indianapolis, IN, February 24, 2010 --(
PR.com
)-- We live in a society where addiction is rampant. Whether you or someone you love is addicted to drugs, alcohol, sex, gambling or any other vice, there are ways to beat the addiction and get your life back. One such healing method is the twelve-step program. Most people who have never been involved with a twelve-step program have no idea what to expect. The purpose of this book is to de-mystify what goes on in such programs and explain the nature of twelve-step recovery.
In Understanding Twelve-Step Programs, a Quick Reference Guide, Dog Ear Publishing author Bruce Brown describes the basics of the twelve-step program and what it entails. Each short chapter of the book highlights a particular component of the process including: Meetings, Withdrawal, the Twelve Steps, Working the Steps, Sponsorship, Common Prayers and Promises. After reading this reference guide, those who are considering entering a twelve-step program and newcomers who have just begun the process will have a better grasp of what to expect. It is also a useful tool for ministers, therapists and anyone who might want to recommend a twelve-step program to others.
Bruce Brown came into his first twelve-step program in early 1993. Since then he has attended at least ten different types of twelve-step programs. His recovery has involved meetings in fifteen states covering all regions of the U.S. as well as online meetings. He has sponsored over twenty people and worked intensely with ten sponsors of his own. He has worked the Twelve Steps numerous times.
For more information, visit
Understanding12StepPrograms.com
.
Understanding Twelve-Step Programs
Bruce Brown
Dog Ear Publishing
ISBN: 978-160844-237-9 76 pages $10.95 US
About Dog Ear Publishing, LLC Dog Ear Publishing offers completely customized self-publishing services for independent authors. We provide cost-effective, fast, and highly profitable services to publish and distribute independently published books. Our book publishing and distribution services reach worldwide. Dog Ear authors retain all rights and complete creative control throughout the entire self publishing process. Self publishing services are available globally at www.dogearpublishing.net and from our offices in Indianapolis, Indiana.
Dog Ear Publishing – self publishing that actually makes sense!
###
Contact
Dog Ear Publishing
Ray Robinson
317-228-3656
www.DogEarPublishing.net

Contact