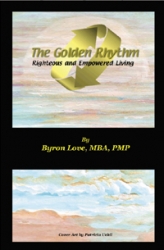 Odenton, MD, March 28, 2010 --(
PR.com
)-- Byron Love, owner of B. Anthony Love and Associates, LLC, has releaseed a breakthrough new book: The Golden Rhythm: Righteous and Empowered Living. The Golden Rhythm is a unique guidebook written to people who have been challenged by life. There is a path to take people from where we are to where they need to be. The Golden Rhythm helps find this path by teaching how to define and refine dreams and goals, how to find balance in life, how to overcome barriers and bad habits, how to set goals, how to maximize strengths and minimize weaknesses, and how to establish a Golden Rhythm through which goals are achieved and dreams come true. The Golden Rhythm can be used for self development and empowerment, and also as a roadmap for mentoring others who need help.
All of these tools and techniques are important for self development, which includes spiritual development. The Apostle Paul's example and teachings are used to demonstrate the power and importance of spirituality. He taught that the plans people have for their lives need to be in line with God's purpose. The Golden Rhythm provides a structure for aligning goals and dreams with God's purpose. It helps people look at the man or woman in the mirror and to change their ways.
For about the price of lunch, readers can get The Golden Rhythm: Righteous and Empowered Living and have the tools they need for a lifetime of success. It is available in paperback for around $12 and as an immediate eBook download for $6.99 (see
http://info.goldenrhythm.com
).
Format: 6 x 9 paperback cream
ISBN: 978-1-4327-5073-2
Cover Price: $12.95
Pages: 108
Category: Self-Help / Dreams
Distributed via: Ingram, Baker & Taylor
Published by: Outskirts Press, Inc.
Publication Date: Feb 13, 2010
About the Author: Byron Love hails from Douglas, GA and currently resides in Odenton, MD. He is a freelance Christian writer who has written for The Vine News, a Washington, DC area Christian newspaper (http://www.thevinenews.com), DCGospelblog.com, and the Sin No More eZine (http://sin-no-more.gospelsgrace.org). He is a founding board member and former chairman of the nonprofit Unity Economic Development Corporation (http://www.unityedc.org), the founder and President of the nonprofit Gospel's Grace, Inc (http://www.gospelsgrace.org), and the Director of the Force 3, Inc. Program Management Office (http://www.force3.com).
###