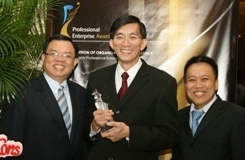 Singapore, Singapore, March 03, 2010 --(
PR.com
)-- For the first time in Singapore, a group of professional traders are organising a Charity Seminar event to help raise funds for The Straits Times "The School Pocket Money Fund".
Asia Charts Pte Ltd, a company formed by a group of professional traders that specialises in stocks and futures trading education, is organising a charity seminar called "Traders Support The Straits Times School Pocket Money Fund - Give A Child Hope" charity seminar on 13 march 2010 at the DBS Auditorium.
More than 500 traders and investors are expected to attend this event with all proceeds of ticket sales going to the ST School Pocket Money Fund.
In this seminar, Mr Ee Chee Koon, Chief Operating Officer and Chief Trainer of Asia Charts Pte Ltd will be giving a market outlook for 2010 plus share a special trading technique that Asia Charts developed. Mr Ee will share how the trading indicator called the "Turbo Trend Indicator (TTI)" can help investors and traders identify strong trending stocks to maximise trading profits in the shortest time.
In addition, the event will see Mr Kelly Clement from Thomson Reuters give an overview of the popular charting software, MetaStock and how to take advantage of the various add-ons in the latest version.
Traders and investors who like to attend this event can register at the website
http://www.TradeWithSkills.com/charity
Asia Charts Pte Ltd, a recipient of the "Professional Enterprise Certification" award, is a leading training institution in stocks and futures trading education and provides a suite of investment-related products. To attend one of Asia Charts free seminar, click here ->
Free Trading Seminar
###