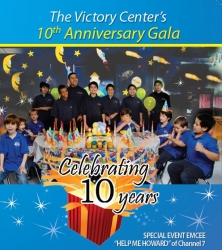 Miami, FL, March 04, 2010 --(
PR.com
)-- The 10th Year Anniversary Gala is to be held on Thursday, March 25, 2010, at Christine Lee's Gulfstream Park in Hallandale Beach, Florida. Proceeds from the Annual Gala will be donated to The Victory Center for Autism and Behavioral Challenges. The mission of The Victory Center, a Florida non-sectarian, non–for-profit Corporation, is to provide children with Autism and similar disorders comprehensive individualized therapy. The students receive one-to-one/ two-to-one student- teacher ratio therapy within a classroom setting based on the principals pioneered by B.F. Skinner and his Applied Behavior Analysis.
Thalya Olmos, Executive Director, states, "Early one-to one and/or two-to-one Applied Behavioral Analysis intervention is the key to the future for our students who face serious challenges in their younger years of life. Is it this very intervention that is provided by The Victory Center which sets a stepping stone for our children to succeed in the future as members in our society. This is why our programs and services are so unique within our community."
The Gala will be a fabulous evening of fine food, fun, and shopping with high-end "live auction" packages, vacation raffles, gift baskets, sports memorabilia, exquisite jewelry, and travel packages. One of their main Silent Auction items is a 12-day Asia cruise sponsored by The Yachts of Seabourn. Dates are subject to availability.
Marking their 10th year milestone, they will be honoring their past Honorees for making a difference not only within The Victory Center but our community as a whole in South Florida. In addition, they will be honoring Mrs. Annie Isabella, Mrs. Cindy Fraga, and Mrs. Jocelyn Rodriguez for their continual work within the Autism community. It is their work and dedication that has made The Victory Center a place where our children and families can come together as one.
The event will be emceed by Miami's most well-known attorney and prominent leader Mr. Howard Finkelstein. Mr. Finkelstein is most notably known from "Help Me Howard" legal advice segment on WSVN-Ch. 7, as well for his work within the South Florida community. Hundreds of guests are expected to attend. Supporters include prominent members of the banking, real estate, building and legal communities. The event draws from the diverse South Florida community, from South Dade to West Palm Beach. Gala Chair Rhonda Hill states, "Our Annual Galas are very important fundraising events for The Victory Center. They are also lots of fun. Where else can you eat, drink, dance and shop while helping children within our community?"
Sponsorships opportunities and tickets are still available. Individual tickets are $150.00 each and can be obtained by contacting Thalya G. Olmos, Executive Director for The Victory Center at 305-466-1142 extension 212 or tolmos@thevictoryschool.org.
###