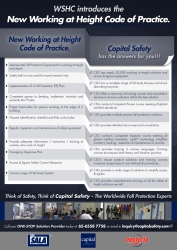 Singapore, Singapore, March 08, 2010 --(
PR.com
)-- Global height safety specialists provide problem-solving resources and expertise.
With its full range of fall protection equipment, comprehensive height safety training courses and expert consultation services, Capital Safety Group (CSG) can provide the solutions you need to comply with Singapore's new Code of Practice for Working Safely at Height.
In a concerted effort to reduce the number of fatal falls at the workplace, Singapore's Ministry of Manpower (MOM) and the Workplace Safety and Health Council (WSHC) have recently published specific guidelines for working safely at height. The target is to implement fall protection plans in all construction worksites and shipyards by 2012 and at all workplaces by 2015.
These guidelines include: having appropriate fall protection equipment for working at height and depth; having a "competent person" to develop, implement, maintain, and evaluate a worksite "Fall Protection (FP)" Plan; and conducting regular inspection and maintenance of safety equipment.
"Capital Safety's products and services were designed to anticipate many of the concerns addressed in Singapore's New Code of Practice for Working Safely at Height", said CSG Asia's Managing Director, Brad Gates.
"We have nearly 20,000 'working at height' equipment and solutions including a full allotment of training courses such as Competent Person. Our products and training programs conform to all global certified standards. Our experts provide detailed site surveys and consultation services and also have the capability to train Competent Inspectors," he said.
Capital Safety, the world's leading designer and manufacturer of height safety and fall protection equipment with 12 operating sites worldwide, is home of the DBI-SALA and PROTECTA brands. All of Capital Safety's fall protection and rescue systems are backed by the best training, technical assistance, and customer service in the industry.
For more information, contact Capital Safety at +65 6558-7758 or visit them on the web at www.capitalsafety.com.