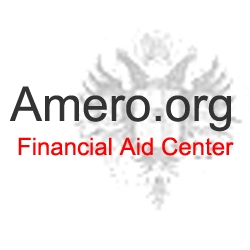 New York, NY, March 22, 2010 --(
PR.com
)-- Amero Enterprise launched its new website, at
http://Amero.org
The new website, created by the Amero Enterprise in-house digital team, embodies forward-thinking vision and commitment to combat the growing cost of education.
They believe free money for college exists, but it's hard for students to find it. Millions of dollars in financial aid goes unclaimed each year. That is why they decided to deliver a Financial Aid Center bringing students all possible information on the subject at one place: Amero.org
Their site delivers unique content and applications helping students receive more money. It concentrates on all aspects of financial aid. Listed are some of the topics and college financial aid types they offer:
Student Loans
Parent Loans
Loan Consolidation
Scholarships
Grants
Work Study Programs
Fellowships
Traineeships
Federal Financial Aid
State Financial Aid
Study Abroad
Summer School Aid
Banking For Students
Insurance For Students
Credit Cards For Students
FAFSA
With over 500 pages of content the site carries something for everyone. Students who are still in high school, enrolled in college, or just graduated will find the site very helpful in all stages of their financial aid cycle.
College financial aid information is offered for students, parents, graduates, professional study students, future students, transfer students, out of state students, veterans, and more. The goal of the site is to have a section for everyone that is looking for college aid.
The first version of the site also provides financial aid applications and tools making the process of finding college aid very simple. Visitors who find the entire topic overwhelming, and do not know where to begin, have an option to use their Financial Aid WIZARDS. These wizards will guide participants towards free money for college.
Amero.org contains a broad range of other helpful features. Students have an option to ask financial aid questions right on the site. Their experts will be glad to answer these questions. They can also point the visitors into the specific sections of the site where they can research their subjects.
The website also offers a very powerful search engine helping students search for college money, and related information. Colleges, college codes, financial aid centers, and state agencies along with their respective contact information can be looked up right on the site.
Students should feel free to take a test drive of the website and check out some of its features. All content and tools are provided at no cost as the intent is to help students get their education for free. This is the first version of our Amero.org site. More content and new topics are under way for future releases.
This launch lays the groundwork for a philosophy of ongoing evolution and expansion of Amero.org with new features and improvements being made continually. They look forward to feedback from their users and exciting new developments to come.
###