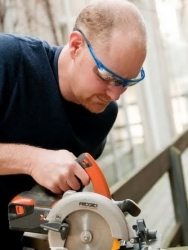 Chicago, IL, March 29, 2010 --(
PR.com
)-- Spring is just around the corner. Before you let the kids run wild and invite neighbors over for a barbecue, make sure your home is safe for the warm weather. Matt Lederer of Chicago-based Mahogany Builders offers ten simple steps that can save you money, keep your family safe and maximize your curb appeal.
The National Association of Realtors and this year's Remodeling Cost vs. Value Report highlights the importance of a home's first impression. Matt's advice will increase your curb appeal and keep your family safe for the warmer months ahead.
Matt Lederer advises, "Spring is the season of rebirth and regeneration. The same is true for your home. Walk across the street and take perspective of your house. Plan out your maintenance and seasonal projects now before the distractions of summer take over and you lose momentum. Don't forget that Spring is the time to take advantage of contractor discounts before the season literally heats up."
1. Examine your Front Door:
Winter storms, wear & tear from adults, children & animals, leave front doors looking dingy, straggly and weak. Replacing doors with a more energy efficient door looks great and saves money on heating and air. Don't want to spend a lot? A simple paint job will do wonders for an old door.
2. Clean Gutters:
Gutters are a breeding ground for insects, mold, mildew and algae spores that can enter your attic and allow biological growths to enter your home. Scoop out debris and run water from the top to bottom of the gutter with a hose. Invest in a gutter cap or screen. Scrub out the inside with a gutter brush.
3. Check the Basement:
Scan everything in the basement. Check the water and sewer pipes for leaks, mold and tearing and pests. Address problems immediately either with a water vacuum, dehumidifier, or new gutter drains. Drain sediment from hot water heaters. Change your furnace filter.
4. Check the Foundation:
Inspect the foundation of your home for large cracks and shifts in the blocks. Seal large cracks and gap between the foundation and concrete/earth and directly on the concrete. Any remnant snow should be shoveled to drain away from the home.
5. Clean the Deck:
Remove grime, pollen, fungus, and mildew. Scrub the surface with a deck cleanser or this homemade cleaning formula: Add one cup of powdered laundry detergent to a gallon of hot water, and add 1/2 cup of chlorine bleach to kill moss or mildew.
6. Exterior Paint:
Carefully scrape, prime and paint peeling spots on trim or woodwork. You'll protect wood against Summer's heat and moisture--and prevent a more difficult paint job come fall.
7. Reseal
Caulk and other sealants safeguard your home against rain and snow at vulnerable points such as cracks and open joints. Winter can rip caulk apart. Scrape out old caulk using a painter's five-in-one tool. Clean and disinfect with one-part liquid chlorine bleach in three parts warm water.
8. Add some Green:
The first thing guests notice is color, light and symmetry. When adding new shrubbery keep it symmetrical. Change outdoor light bulbs to energy efficient bulbs. It is amazing what some flowers, light and fresh paint can accomplish.
9. De-Clutter:
Mahogany Builders is known for their expertise in finding unique storage solutions in the most unique place. Hardware stores offers a range of affordable shelving solutions. Throw out junk and place keepsakes in labeled shoe boxes. They are angular, easy to stack and fit nicely on shelves and under beds.
10. Get Rid of Mold:
Examine your ceilings, attic, walls and bathrooms. Clean surface areas immediately before they become a hazardous and expensive problem. If you do notice mold, you must identify the source of the mold before repainting. Ask a local contractor for help. When you are ready to repaint use mold growth inhibitor paint made for high moisture areas.
About Matt Lederer, Mahogany Builders
Matt Lederer, owner of Mahogany Builders, www.mahoganybuilders.com, has been remodeling homes in the Chicago area for the past eight years. Mahogany Builders specializes in kitchens, bathrooms, custom cabinetry, shelving and storage units, fireplaces, lighting among other specialties. Matt is unique from other contractors in that he employs the project management techniques and methodology from his corporate background. In drafting estimates, Matt conducts a thorough analysis of a project including the effort and cost to complete specific tasks within each trade. During construction, Matt focuses on managing labor and materials while constantly updating clients with progress reports and detailed discussions. Mahogany staff includes a team of nearly 15- included skilled tradesmen, a dedicated construction manager, a project manager, and in house designer available for every project. Matt also welcomes outside designers and works in conjunction with them. He is enthusiastic about his work and loves what he does and it shows, not only in the final product, but in the way he talks about his business, his clients, and his staff.
Amy Solomon, Solomon PR, (917) 693-5339, Amy@SolomonPR.com
###