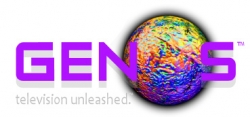 Los Angeles, CA, May 04, 2010 --(
PR.com
)-- ShambroWest Corporation, the Distributed Computing Industry Association's (www.dcia.info) newest Member company, is now inviting industry insiders and leading media journalists to join its senior management team at an exclusive dinner in Los Angeles this Wednesday evening May 5th to preview GenosTV for the Digital Hollywood community.
This gala media event to introduce the revolutionary Genos broadband television service will begin at 6:15 PM at Loews Santa Monica Beach Hotel. Attendance is limited, so qualified attendees are encouraged to RSVP at their earliest convenience to 410-476-7964 or genos@dcia.info.
For those unable to attend, the DCIA will provide a webcast of the event.
GenosTV will be delivered over broadband Internet connections to its subscribers' televisions using proprietary hardware and software platforms to maintain the security of the content. This unprecedented online service will provide its subscribers worldwide with access to cable, network, and other media content from every geographic region and in every language around the world.
Using a feature called TvME, GenosTV subscribers will also be able to create and distribute their own television channels, sharing them either with a small circle of friends, broader interest based groups, or the entire GenosTV community.
With CloudDVR, the Genos network will provide secure online storage of up to 180 days for every channel on the service, making a multi-million hour DVR available to members with active subscriptions to the content.
CloudDVR will also store non-channel content including material created by subscribers, movies in multiple languages from both mainstream and independent producers, along with other free and video-on-demand (VOD) content.
The Genos network is currently seeking and evaluating technology partners with hardware, software, and networking solutions. GenosTV is also seeking to license content from providers in every language and every geography around the world.
Genos is a subsidiary of the ShambroWest Corporation, with offices in Las Vegas and Amsterdam. It was founded by Rob Shambro, serial entrepreneur and founder of SAVVIS, StreamSearch, and ILabs; Mike West, subject matter expert in consumer electronics and former technical leader at IBM; and Kevin Bacchus, creator of the Microsoft Xbox.
ShambroWest Corporation is being incubated by Sonnenschein, Nath, and Rosenthal.
###