SkinDNA™ Scientists Uncover the Secrets to Great Skin, Within Your DNA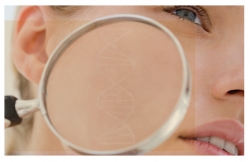 Sydney, Australia, May 05, 2010 --(
PR.com
)-- Today heralds a new era in personalized skin care with the launch of the SkinDNA™ Test – the world's first comprehensive genetic skin profile test. According to Advanced Dermatology's Dr Sarah Freilich, "SkinDNA is one of the most exciting, eyebrow-raising developments out there in the skin health and skincare arenas."
SkinDNA™ is an at-home DNA-based laboratory test which takes the power of the DNA's unique blueprint to identify the skin's genetic propensity to five key ageing pathways: Collagen breakdown; Photo aging; Wrinkling; Oxidation; and the skin's ability to tolerate Environmental pollutants.
Using a non-intrusive swabbing of the inner cheek, the SkinDNA™ sample is analyzed with the proprietary DNA DermXT™ micro-chip technology developed by a worldwide collaboration of scientists. The client's sample data is used to create a personalized guide that allows them to advance beyond the 'one-size-fits-all' suggestions – using the right skincare products targeted to their own genetic blueprint. This custom tailored skincare program allows the client to achieve the optimum levels of skin protection and long term health.
The research collaboration, coordinated by scientists at Sydney based Advanced Dermatology, profiled the action of 6,347 genes. "The research has studied more genes with regard to skin aging than all previous research efforts combined," says Robert Gulbahce, Director of Clinical Operations at Advanced Dermatology. The team found for example, that more than 1 in 3 people had a deficiency in a specific gene which regulates collagen production increasing the propensity to early onset wrinkling; and that 2 in 5 people where at an increased risk of sun damage by having a deficiency in the key genes which regulate sun protection.
"There are many implications of these findings," says Dr Sarah Freilich. "Through this kind of research, we can understand the skin's molecular mechanisms, and can develop customisable skincare routines that downplay an individual's genetic deficiencies. Ultimately this information – when used in conjunction with the SkinDNA™ unbiased product recommendations – can slow down what is many peoples biggest fear – premature skin aging!" says Robert Gulbahce.
Consumers that care about the future of their skin can purchase the SkinDNA™ Test from
www.skin-dna.com
For all media enquiries please contact Stefan Mazy via return email stefan@skin-dna.com
###
Contact
SkinDNA
Stefan Mazy
+61425199277
www.skin-dna.com

Contact