Second Annual World Tavern Trivia Nationals a Huge Success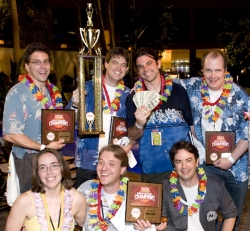 Durham, NC, May 07, 2010 --(
PR.com
)-- Three things happen when you bring 25 of the best World Tavern Trivia teams together to compete for $10,000: A Lot of drinking, Great Fun and one hell of a close race. The 2010 World Tavern Trivia National Championship was a total home run bringing over 150 people and 25 teams to Harrah's in Atlantic City to compete for their share of $10,000.
Redd Foxx Danger from Patrick Henry Pub in Richmond, VA took home the 1st Place title along with $5,000 and bragging rights for a year as the World Tavern Trivia National Champions! In addition to Redd Foxx Danger the following teams also placed in the money.
2nd- The Aces from Fernwood/Wintergreens in East Stroudsburg, PA
3rd- The Knights Who Say Ni from Greyhound Pub in Worcester, PA
4th - INA from Country Lounge in Hallstead, PA
5th- The Chumbuckets from Mac's Tavern in Cary, NC
The event consisted of 3 trivia games including The Amazing Trivia Race where teams competed challenges that took place all over the casino including the parking garage with Blue Collar questions coming from "Cleatus the Repair Man" and questions from a life size operation game, equipped with tongs and a battery. All this happened after one team member was chosen to jump in the pool to dive for category diving sticks that determined their Double Points Round category.
The event was culminated with the award ceremony taking place at the awaiian Luau at The Pool. Drinks were flowing and everyone had an absolute blast. Fun prizes and awards wer e given out for Best Team Costume and Best Team Flag followed by an impromptu limbo contest.
This was the 2nd National Championship event for World Tavern Trivia and was driven by the enthusiasm and energy from all of the teams that attended. Next year it is anticipated that more than 100 teams will attend.
World Tavern Entertainment is a bar entertainment company based in Durham, NC. World Tavern Entertainment provides low cost, high profit promotions to bars across the country. Promotions include
World Tavern Trivia
known as the Most Fun Bar Trivia Game in the country, as well as their pioneer product, World Tavern Poker (www.worldtavernpoker.com) which is the largest bar poker league in the country with over 300 participating bars and more than 100,000 registered players.
If you would like more information on World Tavern Entertainment visit www.WorldTavernEntertainment.com or e-mail MikeM@WorldTavernEntertainment.com
Nancy Matsinger
World Tavern Poker and World Tavern Trivia 919-362-8010 (direct) 919-544-0700 (Office) ext. 125 NancyM@WorldTavernEntertainment.com
###
Contact
World Tavern Entertainment
Mike Matsinger
919-544-0700
www.WorldTavernEntertainment.com
Nancy Matsinger
World Tavern Poker and World Tavern Trivia 919-362-8010 (direct) 919-544-0700 (Office) ext. 125 Nancy@worldtavernpoker.com

Contact