Documentary to Chronicle 52-Year-Old Woman's Quest to Compete in Grueling Ocean Endurance Event
32 Miles from Now is the true story of one woman's dream to paddle the "Everest" of ocean events; the treacherous Molokai Channel in Hawaii. Ann Hettinger's journey is a narrative of life changing events that take this 52 year old ex-suburban housewife from Colorado to Kauai. Taken completely out of her element and becoming fully immersed in the island lifestyle, she learns honor and respect for the ocean and the amazing watermen and women that guide and teach her along the way.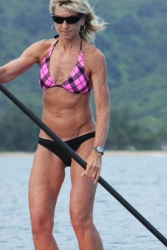 Princeville, HI, May 13, 2010 --(
PR.com
)-- From Landlocked Colorado Suburbs to Hawaii's Open Water, Late-Blooming Athlete Pursues Her Stand-Up Paddleboard Dream
52-year-old Princeville resident, Ann Hettinger, has teamed up with renowned surf cinematographer Joel Guy for the documentary, 32 Miles From Now. The film chronicles Hettinger's astounding transformation from suburban Colorado housewife to elite athlete, as she trains to compete in Hawaii's Molokai to Oahu Paddleboard Race on July 25, 2010. Largely regarded as the "Everest" of ocean competitions, this grueling world championship race requires individuals to paddle the 32-mile rough water crossing of the Molokai Channel, one of the most treacherous ocean channels in the world. The race is the ultimate test of athletes' mental and physical endurance, with open-ocean swells of up to thirty feet, combined with unpredictable tides and currents.
At fifty-two, Hettinger will be the oldest woman ever to attempt this feat as a solo paddler. This, coupled with her relative inexperience in open water, and a brutal dog attack last fall, make her a seemingly unlikely participant, as she takes her place among traditional and standup paddlers from around the world—most of whom are half her age. But her rigorous 5 to 7-hour-a-day training regimen, much of which is highlighted in the film, ensures that she will be ready for the race.
Hettinger says, "I am always working to believe in myself and to overcome personal and physical adversities I have faced throughout my life. This race represents a celebration of living. If my journey can offer one glimmer of hope to someone, it is all worth it." She continues, "My heart, soul, mind and body are dedicated to this challenge. I have the highest respect for the ocean and all those affiliated with this sport. It will be an honor to paddle with this amazing group people."
A close-knit support team is assisting her in her quest. Friend Cheri Hakman convinced Hettinger to document her experience, and introduced her to cinematographer Guy, a Kauai native and owner of Hanalei Grass Shack Productions. Guy is documenting Hettinger's extraordinary journey and has already shot hundreds of hours of footage in some of the most breathtaking scenery in the world. The film celebrates the island lifestyle, Hawaiian watersports, and includes world-renowned watermen, Ekolu Kalama, 2009 winner of the standup paddle race; Todd Bradley, co-founder of C4 Waterman; and legendary big-wave surfer and standup paddleboarder, Laird Hamilton.
Hettinger's coach, world-class paddler, Steve Cole, says, "Ann has a huge goal in front of her. It's not just about learning to surf and getting the required training for open-ocean standup paddling, but she has to learn how to read the ocean's many moods."
A portion of the film's proceeds will be donated to Save Our Seas, an international Hawaii-based 501(c)(3) non-profit utilizing education and research to preserve, protect and restore the world's oceans for future generations. Ann explains, "Because the ocean has brought such joy and purpose to my life, I want this documentary to bring awareness to the preservation and the health of ocean reefs."
The documentary is tentatively scheduled for release in Fall 2010. More information on the project, and a trailer of the film are available at www.32milesfromnow.com.
About Ann Hettinger
Ann's journey to Molokai began seventeen years ago, when she was a self-described chain-smoking couch potato. When her daughter told her that if she didn't quit smoking, she would die, the warning resonated. Ann rid herself of the cigarettes, took up running and weight training, and radically changed her diet and her life. Running soon became her passion; she hired a coach, and has been competitive in everything from 5Ks to marathons. As a longtime Denver resident, Ann's first swim lessons were in high school PE class, and she was in her late-twenties before she ever saw the sea. Captivated by the ocean during a trip to Hawaii at age thirty-eight, she would return to the islands years later, fall in love with Kauai, and vow to make it her home. She explored outrigger canoeing, surfing, and—what came most naturally to her—standup paddling. When she heard about the world-renowned Molokai event, she decided to take on the challenge. Ann's mantra is, "Follow your passion…the time to live is now." Ann is also the founder of Soul & Sport Ventures (www.soulandsportventures.com), an all-inclusive women's adventure retreat at Hanalei Bay on the North Shore of Kauai.
Press or sponsorship inquiries:
Ann Hettinger
(808) 651-8856
annhet@gmail.com
###
Contact
32 Miles from Now
Ann Hettinger
808-651-8856
www.32milesfromnow.com

Contact