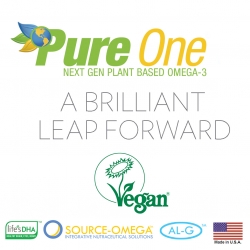 Chapel Hill, NC, May 17, 2010 --(
PR.com
)-- Could Pure One™ be the "4G" of omega-3s? Pure One™ Next Generation Plant Based Omega-3™ may qualify as a brilliant leap forward in omega-3s. Pure One™ is DHA-rich oil from a pure cultured algal source. The oil has significant scientific research backing, a patent pending metabolic ratio of DHA and EPA for the same omega-3s that are found in fish oils, but without the fish. Pure One™ is from one source, not a mixture, and is a pure sustainable product made in a breakthrough vegan softgel, also from natural algae sources. The product is free of animal products, GMO's, wheat & gluten, soy, hexane, fragrance, flavorings, dyes, toxins, allergens, pollutants and heavy metals. See
www.PureOne-DHA.com
for product information.
"Our research and development brought to market the first and only metabolic ratio of DHA and EPA omega-3s. We are educating consumers that Pure One™ is proven to replace fish oil, dose for dose, for the heart and brain, eliminating the need for the world to harvest fish for oil," said Dr Scott Doughman, the formulating scientist and President of Source-Omega, the maker of Pure One™.
"Most vegetarian algae oil products on the market are still placed in animal capsules. The animal capsules have peroxides which shortens omega-3 shelf life. Unlike others, Pure One™ uses only high grade algae oil and capsules. You get what you pay for with omega-3s. I think we have the top product on the market right now, at one of the most affordable prices," said Doughman.
The 100% plant based ingredients registered with the Vegan Society designates quality standards held by only few select DHA products worldwide. Pure One™ oil is unblemished by the current fish industry problems such as menhaden overfishing and toxic oil spills.
Pure One™ is one product, not a fish oil blend. It starts pure and ends pure. Fish oil cannot claim that and must be decontaminated for human consumption. The source where fish oil omega-3s come from in the food chain is now grown sustainable and scalable away from the sea free of pollution and free of harm to fish, krill, seals and penguins.
Microalgae oil (algae oil) is among the richest marine omega-3 sources. With 3-times the DHA concentration versus fish oil, Pure One's website suggests this means half the numbers of capsules are required per day. Also, flax oil does not provide the marine omega-3s needed by the body for healthy cardiovascular and cognitive function. Most omega-3 benefits are associated with fish and fish oil, but fish are not the only food sources rich in marine fatty acids. Some also fear fish oil is not the safest solution.
"Since 1997, FDA experts have granted our omega-3 oil and our grower with a Generally Regarded As Safe designation for algae oil food supplements. We use only conventional enclosed growing techniques without any genetic modification," said Dr Pernilla Karlsson, PhD, a Pure One™ Spokesperson, Author, Toxicologist, Nutritionist, and President of Veganlife in Europe.
Due to the metabolic disadvantages of ALA, alpha-linolenic acid (ALA) rich plant sources, vegetarian flax oil is not as effective as algal omega-3 supplements, studies show. While foods and oils like flax oil, walnuts and mustard seeds are good sources of vegetarian omega 3s, algae oil supplements offer a higher standard of benefits, allowing everyone access to full omega 3 benefits for healthier lifestyles, regardless of culinary affiliations.
"Even if one is not a vegetarian or vegan, Pure One™ gives the maximum benefit of omega 3s because the proper balance of DHA and EPA make it a superior source," said Dr Alex McDonald, M.D., a Pro-athlete and Doctor taking Pure One™ while training for the Iron-Man™ to achieve a peak omega-3 index. Pure One™ sponsors McDonald.
About Source-Omega, LLC, Chapel Hill North Carolina, USA: Source-Omega is located near the Research Triangle Park and was founded in 2007 for specializing in the manufacturing, branding, and globalization of algae oil nutritional products as an exclusive distributor of the brand name Pure One™, Next Generation Plant Based Omega-3™ for their Omega-3 DHA Therapy™, for clinics offering triglyceride lowering plasma lipids management programs and for pregnancy, nursing and family care. Dr. Scott Doughman, Ph.D. Phone: +19193605275, Web: www.PureOne-DHA.com
###