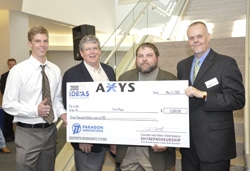 Richardson, TX, May 20, 2010 --(
PR.com
)--
Paragon Innovations Inc.
, a leading provider of product development and engineering services, proudly presented the first place award to Cameron Brown, a senior in industrial distribution, for his winning entrepreneurial idea at this year's Ideas Challenge at Texas A&M University. Mr. Brown received a $3,000 check from Paragon Innovations and the Center for New Ventures and Entrepreneurship (CNVE) for his innovative idea for an automated bike lock system – a product that would sound an alarm if the bike rider was not wearing a protective helmet. In addition, CNVE will assist Mr. Brown in securing patent protection for his innovative idea.
"I am honored to be part of CNVE's inspiring competition," said Mike Wilkinson, CEO of Paragon Innovations. "It is exciting to see first-hand the creativity and passion these young entrepreneurs have for their ideas. The students who entered this competition represent future entrepreneurial businesses, and I believe we should do everything possible to support their dreams."
Each spring, students from across the Texas A&M campus are asked, "What is your big idea?" Freshmen to doctoral students dream up the next great product or service and enter their big idea in this campus-wide Ideas Challenge competition. Over 500 Texas A&M students entered this year's competition, submitting 156 idea applications. The top 40 ideas, which involved about 110 students, were presented before judges. Each of the finalists was asked to give a five-minute presentation about the idea. The judges then tested each contestant by having them substantiate their idea covering such concerns as marketability and feasibility. Approximately 80 business and academic professionals from around the state judged the competition and selected the top five ideas.
"It's wonderful to see the entrepreneurial spirit and enthusiasm that the students have for their ideas," added Lenae Huebner, Assistant Director of CNVE. "Each year we have more and more students entering the Ideas Challenge. I am sure that one of them could well be the entrepreneurial star of the future."
About Paragon Innovations
Paragon Innovations, Inc. is a leading engineering and product development services provider specializing in medical devices, video displays, portable wireless devices, and a variety of other markets. Founded in 1990, Paragon has worked with Fortune 500 companies including 3M, B.Braun, Halliburton, Hitachi, MedTronic MiniMed, Motorola, and Siemens, as well as startup ventures, to provide turnkey electrical, mechanical and industrial design engineering services from concept development to market launch. For more information, visit www.ParagonInnovations.com.
About CNVE
The Texas A&M Center for New Ventures and Entrepreneurship provides encouragement, education, networking and assistance to entrepreneurially-minded students, faculty and Texas businesses. Founded in 1999, the Center is part of Mays Business School's Department of Management. The Center enhances student education through campus speakers, competitions, work experiences and financial support. The Texas A&M faculty and Office of Technology Commercialization benefit from the Center's educational programs, extensive business community network and the entrepreneurial services.
###