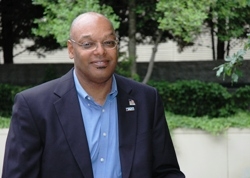 Atlanta, GA, May 25, 2010 --(
PR.com
)-- Bellwether Services is a strategic management consulting firm advising global clients on complex issues of strategy, operations, technology, and sustainability. The company announced today that John Wilkerson, Vice President and Global Supply Chain and Sustainability Consulting Practice Leader, has achieved the highest financial services industry designation with the global advisory and education leader, Gerson Lehrman Group (GLG).
John Wilkerson achieved the GLG Leaders designation because of his global insight into numerous industries such as Environmental, Retail Manufacturing, Industrials, Food, Beverage, and Global Transportation. His client list ranges from large Private Equity Firms, Hedge Funds, Brokerage Firms, and Corporations located near global exchanges in Hong Kong, San Francisco, Los Angeles, Chicago, New York, and London.
Bellwether Services financial services solutions range from M & A, Buy Side and Sell Side due diligence, risk management insight, non-clinical healthcare cost savings opportunities as well as operational excellence best practices. Bellwether consultant's global backgrounds include:
- Transportation
- Home Building Products
- Industrial Manufacturing
- Importers
- Exporters
- Public Healthcare
- Food
- Global Logistics
- Consumer Goods
"I am honored to be ranked in the top 5% in class," says John Wilkerson, CPSM, SSMBB, Vice President, Global Supply Chain and Sustainability Practice Leader for Atlanta headquartered Bellwether Services. "Wilkerson received this highly covenant global rating based on his high customer satisfaction scores, broad industry analysis and highly sought after industry insight."
About Bellwether:
Bellwether Services is an award winning, internationally recognized strategic management consultancy firm advising global clients on complex issues of strategy, operations, technology, and sustainability.
Bellwether specializes in Lean Sigma, Green Supply Chain, and Environmental Solutions. Bellwether has served numerous industries including Consumer Products, Private Equity, Beverage, Chemical, Food, Aerospace, Global Logistics Solution Providers, as well as Public Health and Departments of Defense and Homeland Security.
For more information, please visit their website http://www.bellwether-services.com/solutions/index.html or green profile http://professional-services.greenbiz.com/listing/bellwether-services-95d779c51a/?source=all_listings.
Contacts
Bellwether Services
John Wilkerson, 404-386-2437
sales (at) bellwether-services.com
http://www.bellwether-services.com/solutions/financial_services.html
http://green-supply-chain.blogspot.com
Our Mantra - Believe, Execute, Achieve
###