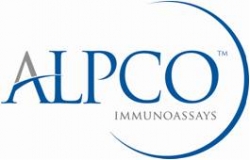 Salem, NH, June 09, 2010 --(
PR.com
)--
ALPCO Diagnostics
announces the recent hiring of Leon F. Hebert Jr., Ph.D. As ALPCO's new Diabetes and Obesity Product Manager, Dr. Hebert will be charged with overseeing the launch of several new ELISA research tools, including:
Mouse Proinsulin ELISA
,
Rat Proinsulin ELISA
,
Mouse C-peptide ELISA
, and
Rat C-peptide ELISA
.
Dr. Hebert holds an M.B.A. from the University of Connecticut, a J.D. from Seton Hall University School of Law, and a Ph.D. from the University of Alabama at Birmingham. Prior to joining ALPCO, Dr. Hebert was the Project Manager in the University of Connecticut's Office of Technology Commercialization. Building upon his work as project manager, eight years of experience as an intellectual property attorney, and as a researcher with an interest in type 2 diabetes, Dr. Hebert will focus on the promotion and continued evolution of ALPCO's Diabetes & Obesity immunoassay product line.
When asked about the growth of ALPCO Diagnostics and the hiring of Dr. Hebert, Sean Conley, President of ALPCO Diagnostics, offered the following statement: "We are very excited about Dr. Hebert joining our team of scientists, sales, and marketing professionals. He will provide a very well rounded approach to ALPCO's marketing efforts as we continue to develop unique, quality immunoassays to the diabetes research community."
About ALPCO Diagnostics
ALPCO Diagnostics
develops, manufactures, and distributes research immunoassay kits. The company's goal is to offer a diverse line of assays that appeal to its broad customer base while providing exceptional customer service and product support.
###