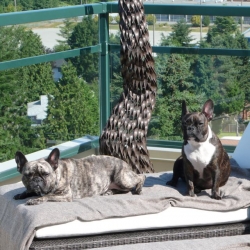 Seattle, WA, June 28, 2010 --(
PR.com
)-- Trupanion implemented and announced a 'No Payout Limits' change to its policy less than a month ago and has already had a policyholder take advantage of this new benefit. Trupanion's receipt of a
pet insurance
claim for skin medication from policyholder Cathy Tunis took the payout on the policy for Madelaine, a French Bulldog, over the former lifetime payout limit of $20,000. Because Trupanion removed this limit, Ms. Tunis is able to continue with the necessary veterinary treatments for her dog without having to worry about costs.
Madelaine (Maddie, for short) has been enrolled with Trupanion (then Vetinsurance) for almost five years, since she was only 6 months old. During this time, she has experienced a profusion of health problems, including bronchitis, skin issues, urinary tract issues, and chronic allergies.
"We are very grateful that Trupanion changed to an unlimited lifetime coverage for pet insurance," said Tunis. "I knew that Maddie was getting close to the old limit of $20,000 but I didn't realize how close."
Trupanion is the only pet insurance provider in the United States and Canada that offers 90% coverage and no payout limits.
About Trupanion™
Trupanion™ pet insurance offers cat insurance and dog insurance in the United States and Canada. Trupanion™ is self-underwritten by the American Pet Insurance Company, allowing Trupanion™ to offer a customizable pet insurance policy with no benefit schedules. Enrolled pets receive lifetime coverage for diagnostic tests, surgeries, and medications if they get sick or are injured, with no incident, annual or lifetime limit. Trupanion's mission is to protect the cherished bond between pets and their families by ensuring that pets are able to receive optimal veterinary care. For more information about Trupanion™, call 800-569-7913 or visit
http://www.TrupanionPetInsurance.com
About the North American Pet Health Insurance Association
Trupanion™ is a founding member of the North American Pet Health Insurance Association (NAPHIA). Founded in 2007, the North American Pet Health Insurance Association is committed to educating and promoting the values and benefits of quality pet health insurance to North American pet owners, the general public, and the veterinary community. As an association, we are committed to high standards and transparency in all of our actions and products. To learn more, visit the North American Pet Health Insurance Association website at http://www.naphia.org
###