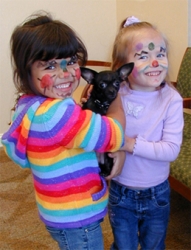 West Palm Beach, FL, August 05, 2010 --(
PR.com
)-- "No Shots, No School, No Kidding!" That's the message families will get from Palm Beach County's School System officials as thousand of kids head back to school this year to begin the new 2010/2011 season.
Palm Beach County School District personnel are already fast at work registering students for the new school year, and they'll be quick to deny admission to any PBCSD student who doesn't meet their requirements for medical exams, immunizations and proper documentation by a licensed medical provider.
According to experts, Palm Beach County's school system is 11th largest school system in the country. It serves over 170,000 students, with over 5,000 new students entering the district each year.
"That's a lot of school physicals" says Peter Lamelas, M.D., CEO and Medical Director of MD NOW Medical Centers, "and is probably why our patient count almost doubles this time of the year."
Dr. Lamelas is an emergency medicine specialist and has been a physician in Palm Beach County, Florida for over 20 years. He is used to seeing his patient census swell this time of year as grateful parents bring kids of all ages into his centers for school physicals, sports physicals, vaccinations and all of their back-to-school medical needs.
Urgent care centers like
MD Now Urgent Care Walk-In Medical Centers
in Palm Beach County are a quick and cost-effective alternative for busy parents who don't have time to schedule doctor's appointments, or wait weeks for their children to be seen at the county health department for vaccinations and other requirements.
With weekend hours and six convenient locations from Palm Beach Gardens to Boca Raton, MD Now's Urgent Care Centers are the largest providers of walk-in medical care in South Florida. Open seven days a week from 8am to 8pm, busy parents enjoy the security of knowing there's always an MD Now Urgent Care Center open when you need one.
According to the Palm Beach County Health Department, all new public or private schools students in grades Kindergarten through 12 usually require a Certification of Immunization, or "blue form" from Florida, with vaccines verified and signed by a licensed medical provider. Students new to the Palm Beach County School System will require a School Entry Health Exam, or "yellow form" to be completed.
Palm Beach County also requires Kindergarten students (ages 4 and 5) to have Boosters for DTaP, Polio, MMR and Varicella (chicken pox) in addition to all other vaccines. 1st and 2nd graders require 2 Varicella shots in addition to all other vaccines, and 7th and 8th graders (age 11-12) need the Tdap booster in addition to all other vaccines.
MD Now Urgent Care Centers have plenty of immunizations and vaccinations in stock, and will even supply the forms if parents need them. No appointment is ever necessary at an MD Now Urgent Care Center.
MD Now Urgent Care Centers provide discounted back-to-school physical exams and immunizations at all six locations in Boca Raton, Boynton Beach, Lake Worth, Palm Beach Gardens, Royal Palm Beach and West Palm Beach, Florida. For money saving coupons for discounted school physicals and other services, visit
http://www.mymdnow.com/Coupons
.
For additional information regarding school physical and immunizations, call toll free 1-888-MDNOW-911 (888-636-6991).
About MD NOW Medical Centers, Inc
Established in 2004 by Peter Lamelas, M.D., a specialist in Emergency Medicine, MD NOW Urgent Care Centers are the largest providers of Walk-In Urgent Care and Occupational / Workers' Comp medical services in South Florida. MD NOW has six urgent care centers and is accredited by the American Academy of Urgent Care Medicine. MD NOW provides a wide spectrum of comprehensive medical services including, but not limited to, treating the common cold, sore throats, sinus infections and rashes to the treatment of wounds/abscesses, burns, strains/sprains and fractures.
MD NOW Urgent Care Centers provide a low-cost alternative to the emergency room and convenient walk-in service, no appointment necessary. Open 365 days a year from 8:00am to 8:00pm, including weekends and holidays, all MD NOW locations are equipped to provide digital X-rays, on-site lab work, drug and DNA testing, school and work physical exams and on-the-job injury care. All major insurances are accepted.
For maps, locations and more detailed information about MD Now Urgent Care Centers visit
http://www.MyMDNow.com
or contact Andy O'Brian at 561-420-8550.
###