Castrads Launches New Website for Cast Iron Radiators
After almost a year of running two parallel sites, Castrads has recently combined Castrads.com with Castradsshop.co.uk, yielding a more user friendly interface and an amalgamated help section for advice on cast iron radiators.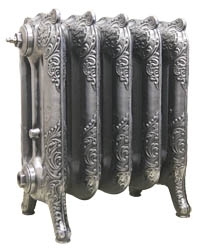 London, United Kingdom, August 11, 2010 --(
PR.com
)-- A year ago today Castrads took on board a new recruit to improve the company's online presence, an area that accounts for a large portion of sales. Twelve months on and the company has launched its brand new website, complete with in depth help pages and an online radiator builder.
Castrads.com
is a more interactive site than its previous incarnation, including the option for the visitor to request free paint swatches to be sent direct to the customer's house. The company has worked hard to increase the detail visible in photographs of the products, including the valves, wall stays and Victorian and ornate cast iron radiators. This works to good effect, allowing the visitor to get a much better feel for the quality of the radiators.
A common concern when buying on the internet is tricky returns policies. Fortunately Castrads proudly displays its simple policies just one click away from the home page.
The company has invested heavily in an interactive radiator builder, which allows the customer to buy custom made cast iron radiators online. The options available include all 29 models at all possible lengths and finished in one of 17 standard colours.
Castrads' Heat Requirement Calculator is another useful tool on the site. Simply by entering room dimensions and a couple of other essential pieces of information, the heat requirement for that room is displayed both in Watts and British Thermal Units.
Castrads
###
Contact
Castrads
Nicholas Baylis
+44 161 2970015
www.castrads.com

Contact