PropertyShark.com Launches InstantAds, a Self-Service Advertising Platform to Reach Real Estate Buyers and Sellers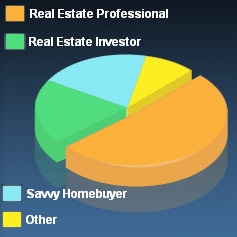 New York, NY, August 27, 2010 --(
PR.com
)-- PropertyShark.com, the premier real estate data website, today officially launched
InstantAds
, a self-service advertising platform to let businesses and real estate professionals create a text or banner ad and have it displayed on PropertyShark.com within minutes, for as little as $25 per month.
PropertyShark users are savvy real estate buyers, sellers, and professionals that are currently researching property, analyzing market values, and searching for investment opportunities.
"We created InstantAds to provide real estate professionals and other businesses with a quick and affordable way to advertise to PropertyShark users," stated Bill Staniford, a General Manager at PropertyShark.com. "Due to the depth of information on the site, people using PropertyShark are typically very serious about buying or selling real estate, and InstantAds lets and advertiser get their message in front of them at a critical point in the real estate buying process."
PropertyShark.com aggregates real estate data from hundreds of public and proprietary sources into an easy-to-use yet comprehensive property research website covering two dozen major markets. Site visitors can view detailed property reports for almost every residential or commercial property, scan recent sales comparables of similar properties to determine market values, browse foreclosure listings, and much more.
###
About PropertyShark
A wholly-owned subsidiary of Yardi Systems Inc, PropertyShark.com offers the information essential to evaluate real estate and make informed decisions. PropertyShark.com, which was named one of TIME.com's "Top 50 Websites of 2009″, provides real estate professionals, investors and home buyers with data and tools on all aspects of property, including building details, ownership information, recent sales prices, property values and comparable sales, sophisticated maps, for sale and for lease listings, foreclosures and pre-foreclosures, mailing lists, photos, and more. PropertyShark.com was founded by Matthew Haines in 2003. For more information or a free basic account, visit www.PropertyShark.com.
About Yardi
Yardi Systems has been committed to the design, development, and support of real estate investment management and property management software for more than 28 years. With its Yardi Multifamily Suite™, Yardi Commercial Suite™, and Yardi Investment Suite™, the Yardi Voyager™ system is the most comprehensive single real estate management platform on the market today. Yardi serves clients around the world from offices in Asia, Australia, Europe and North America. More information about Yardi products and services is available at www.yardi.com.
Contact
PropertyShark.com
Brian Scully
718-715-1758
www.PropertyShark.com

Contact