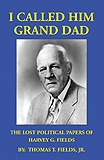 Farmerville, LA, September 13, 2010 --(
PR.com
)-- It's been seventy-five years since Huey Long was assassinated and to this day there are still conspiracy theories surrounding his death. On September 8th 1935 Huey Long was crossing the corridor next to the Louisiana House Of Representative's chambers in the Louisiana State Capital when a gunman walked up to him and fired a shot that mortally wounded the US Senator. The gunman fell amidst a hale of sixty-two bullets fired from Long's body guard. Immediately the conspiracy theories began and they exist to this day.
In 1961 Harvey G. Fields died and had it not been for the painstaking care given to his political papers they would have gone the route of so many other historical documents. For forty-five years these documents remained undisturbed until recently finally surfacing. These papers have now been turned into a book titled "I Called Him Grand Dad. The Lost Political Papers of Harvey G. Fields." Many of the theories surrounding Longs assassination and his last days in the hospital are uncovered in the book.
Fields lived in the small rural town of Farmerville, Louisiana. He was a state Senator, District Attorney, Chairman of the Louisiana Democratic Central Committee, four time delegate to the Democratic National Convention, Law Partner of Huey Long, Chairman of the Louisiana Public Service Commission and the Federal Prosecutor that built the initial cases that are referred to as the Louisiana scandals.
When Huey Long was assassinated he launched his own investigation and uncovered not one but three plots to kill the Senator. He also interviewed several body guards that he knew to be honest men and who had served in public office prior to serving as Long's body guards.
This book does not only cover the Huey Long association, it covers a period of political history form 1924 through 1945. Names such as Carter Glass, Jim Farley, Franklin Roosevelt, OK Allen, Upton Sinclair, Williams Jennings Bryan, Clarence Darrow, Earl Long, Richard Leche, Gene Tallmadge and others are found through out the book.
Just prior to Fields death, he was interviewed by T. Harry Williams when we was writing his Pulitzer Prize Winning book, "Huey Long." Information about Fields is included in the book. Williams had requested the Fields papers but Fields died before the exchange could take place.
"I Called Him Grand Dad" has received several favorable reviews from Our History Project, Book Review.com and TopBookReviewers.com. This book is available through Amazon.com and BarnesandNoble.com.
About the Author:
Tom Fields was born and raised in the rural North Louisiana town of Farmeville. He graduated from Farmerville High School and at the age of sixteen he became one of the youngest committee clerks in the Louisiana House of Representatives. Following a tour of Viet Nam in the Navy he attended Northeast Louisiana University. He also graduated from the Louisiana Military Academy and received a commission in the U.S. Army Reserves. Following graduation Fields became a project engineer for the oil giant ARAMCO Saudi Arabia. Fields currently works for CenturyLink where he is a Corporate Project Manager. He is married with three children and still resides in Farmerville.
ISBN10: 1-4415-3539-X (Trade Paperback 6x9 )ISBN13: 978-1-4415-3539-9 (Trade Paperback 6x9 )
ISBN10: 1-4415-3540-3 (Trade Hardback 6x9 )ISBN13: 978-1-4415-3540-5 (Trade Hardback 6x9 )
Pages : 227
Book Format : Trade Book 6x9
Subject :
Biography & Autobiography / General
Biography & Autobiography / Historical
###