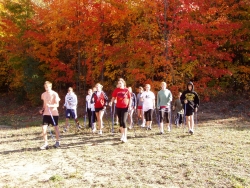 Traverse City, MI, September 30, 2010 --(
PR.com
)-- The spectacular VASA Trail system will offer runners and walkers the opportunity to tour many of the cross country trails within the Pere' Marquette State forest on Saturday, October 9th. Course lengths of 5K, 10K and 25K will be marked and timed. The event is hosted by Running Fit.
Free Nordic Walking Lessons and free use of real Nordic Walking poles during the trail run and walk will be provided by
www.SKIWALKING.com
and the American Nordic Walking System. The lessons will be instructed by Pete Edwards, owner/founder/coach, of www.SKIWALKING.com and the American Nordic Walking System. Edwards' company is headquartered in Glen Arbor, Michigan and is North America's leading supplier of quality one-piece SWIX and EXEL Nordic Walking Poles.
Nordic Walking Poles provide all of the many wonderful health benefits of cross country skiing. Not only do the poles help to burn more calories than regular walking, they also help to radically reduce the stress to the shins, knees, hips and back. Runners with injuries find that Nordic Walking Poles allow them to effectively workout with reduced or often eliminated shin or knee pain. The poles also help to improve balance, stability and gait – ideal for seniors or anyone with balance issues.
Edwards supplies quality one-piece SWIX and EXEL Nordic Walking Poles equipped with special fingerless glove type straps – patented by the Salomon Ski Company. All of his poles come with durable metal tips for use on trails, the beach, snow and ice. Rubber tips/asphalt paws are also included and are ideal for use on pavement, carpet, tile, indoor and outdoor tracks, in the mall and on sidewalks. Edwards provides 16 different lengths of one-piece Nordic Walking Poles – safer, lighter and much more durable than cheap/flimsy 2-piece and 3-piece twist-lock and flip-lock collapsible poles. Collapsible poles tend to rattle, vibrate, gradually collapse or collapse unexpectedly.
Skiers exclusively use one-piece poles during ski season and during dryland training when deprived of snow - hill bounding with one-piece poles and ski walking with one-piece poles. No cheap/flimsy twist-locks or flip-locks. One-piece poles also prove superior for Nordic Walking. Edwards has been coaching runners and skiers for over 25 years and knows first hand that one-piece poles much more user friendly and dependable than cheap/flimsy adjustable length/collapsible/telescoping poles. Edwards warns that seniors and individuals with balance issues should especially avoid collapsible poles.
The VASA Trails are maintained by dedicated volunteers and supported by public donations. The Vasa Pathway is operated by the Traverse Area Recreation and Transportation Trails (TART Trails), a non-profit organization dedicated to developing and preserving non-motorized trails in the Grand Traverse region.
The VASA Trail System is Michigan's premier cross-country trail and offers skiers of all abilities the opportunity to experience professionally groomed trails, exceptional beauty and close proximity to Traverse City.
The North American VASA Festival of Cross Country Ski Races are named after Sweden's King Gustav Vasa and are held annually in Traverse City, Michigan.
All proceeds to help maintain the Vasa trail!
For Trail Run information please contact Running Fit at either of their Traverse City locations: 231-932-5401 or 231-933-9242. Race website: www.RunVASA.com
For more information about the Vasa Trail System and Tart Trails please call: 231-941-4300 or go to www.TraverseTrails.org
For information about the North American VASA Festival of Races please call 231-938-4400 or go to www.VASA.org
###