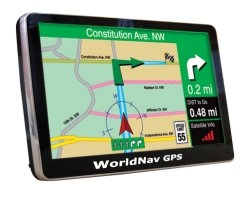 Boston, MA, October 14, 2010 --(
PR.com
)-- TeleType released the first portable touch screen GPS for truck drivers in 2008. The company has continued to innovate and is now introducing the WorldNav 7300 Truck GPS featuring a high resolution 7-inch touch screen affording the user a larger map viewing area and crisp graphics. Simultaneous to the release of the new GPS navigation device, TeleType will release version 10 of its navigation software featuring Lane Assist, user interface speed enhancements, improved map display, faster route calculation, and updated maps for the U.S., Canada, and Mexico.
The new WorldNav 7300 Truck GPS model supercedes the popular WorldNav 7200 and 7100 series. The 7300 offers a high resolution 7-inch touch screen equipped with Bluetooth, FM Transmitter, and AV-In. This WorldNav model supports Truck Routing for professional truck drivers, bus drivers, and recreational vehicle owners and renters.
"With the release of the new WorldNav GPS for truckers, TeleType remains committed to the commercial trucking industry and continues to provide economical navigation solutions to the industry," stated Marleen Winer, V.P. Business Development for TeleType.
This GPS insures that routes will follow roads that are suitable for truck travel, as it takes into account commercial truck restrictions such as bridge heights and clearances, load limits, one-way road designations, and allowances. Including semi-trucks, construction vehicles, and oversized vehicles. TeleType has further adapted the navigation software to support fixed routes for oversized vehicles, busses, municipal service vehicles such as waste management trucks, and snow plows, to accommodate designated routes based on specific requirements.
www.teletype.com/p/730060.html
For further information contact TeleType Company at 1-800-717-4478, 1-617-542-6220. WorldNav 7300 Truck GPS part number 730060, retail $349. Expected to begin shipping by October 20, 2010.
###