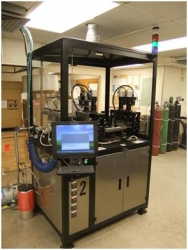 San Diego, CA, October 16, 2010 --(
PR.com
)-- Wildcat Discovery Technologies, a materials discovery company that develops and uses high throughput tools to rapidly synthesize and test new materials, announced today that it has successfully installed a custom high throughput gas sorption assay at Lawrence Berkeley National Laboratory.
As part of an ARPA-E program funded by the U.S. Department of Energy, Wildcat and partners LBNL and EPRI will develop new materials based on metal organic frameworks (MOFs). Today's carbon capture technologies are too expensive. Hence, the goal of this project is to identify new low cost materials that can be used to capture CO2 from power plant exhaust.
The search for improved materials will be enabled by high throughput tools developed at Wildcat. These tools will allow LBNL scientists to evaluate thousands of materials in the time a conventional lab might investigate only a few. The team's approach is expected to dramatically accelerate the overall research effort and increase the opportunity for breakthrough discoveries.
The first installation of Wildcat's custom high throughput assay equipment is based on the company's patented first generation equipment, capable of rapidly measuring gas sorption at varying temperatures and pressures. This versatile device can handle nearly any gas and will allow LBNL scientists to measure hundreds of isotherms every day. Wildcat is also developing a second generation assay for the project that will enable measurements with smaller samples. Once complete, this state-of-the-art equipment will increase throughput to over 1,000 unique materials each day.
About Wildcat Discovery Technologies
Wildcat Discovery Technologies is engaged in the discovery and development of specialty materials for clean tech energy applications; including materials for batteries, gas separation, catalysis and advanced structural materials. Wildcat has developed proprietary high throughput synthesis and testing workflows for the rapid exploration of new inorganic materials. This technology enables Wildcat scientists to synthesize and evaluate thousands of materials in the time it takes most labs to evaluate only a handful. For more information, please visit the company's website at www.wildcatdiscovery.com.
About Lawrence Berkeley National Laboratory
Lawrence Berkeley National Laboratory (www.lbl.gov), located in Berkeley, CA, is part of the national laboratory system supported by the US Department of Energy. LBNL employs over 4000 scientist and is at the forefront of energy and materials research.
About ARPA-E
ARPA-E's mission is to enhance America's energy independence by funding research and development of transformational energy technologies. Modeled after the Department of Defense's successful DARPA agency, ARPA-E was funded in 2008 and has committed over $350 million to projects covering a wide range of energy topics, including energy generation, energy storage, and CO2 mitigation.
###