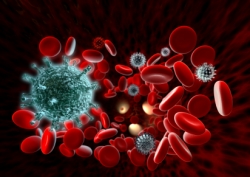 Hueytown, AL, October 25, 2010 --(
PR.com
)-- Just in time to help balance and maintain the body's immune system in the wake of the upcoming fall and winter season, Health Resources™ announces the release of a
breakthrough formula
that contains nutrients that the natural medicine community claims to be the most beneficial for promoting healthy immune wellness.
Supporting the body's natural defense mechanisms by supplementing with these beneficial herbs and nutrients may ensure you stay healthy and well. The main nutrients contained in
Super Immune5 Plus™
are astragalus, scute, Reishi mushroom, andrographis and isatis.
Astragalus is an ancient herb used in traditional Chinese practices that has been shown to support the natural immune-enhancing abilities of the body's white blood cells by 83 percent, according to Prescription for Herbal Healing by Phyllis A. Balch. The Encyclopedia of Popular Herbs states that astragalus can support the function of and enhance levels of natural killer (NK) cells, which are responsible for patrolling the body in a search and surveillance mode to ensure the integrity of the immune system and its natural capacity to function at a high level.
The second ingredient in Super Immune5 Plus™ is scute, or Chinese skullcap. Multiple scientific journals including Food & Chemical Toxicology; Bioscience, Biotechnology & Biochemisty; European Journal of Pharmacology; and Experimental Biology & Medicine report that scute can help block inflammation-causing enzymes, defend against free radical damage, support normal breathing patterns, protect nerve cells from oxidative damage and soothe occasional stomach discomforts.
The third key ingredient is Reishi mushroom, which has been scientifically studied to help promote optimal immune function by supporting diverse cellular signaling pathways, as reported in the Journal of Ethnopharmacology. Results from a Chinese study published in the Journal of Medicinal Food, show that Reishi can beneficially boost the body's energy levels and promote a healthy immune response.
Another immune-supporting ingredient contained in Super Immune5 Plus™ is andrographis. Conducted at the Universities of Exeter and Plymouth in the United Kingdom, seven double-blind, placebo-controlled trials evaluated individuals in need of immune support. Those who were given andrographis reported significant benefits in respiratory health, compared to the placebo group.
The fifth key nutrient contained in the formula is isatis. According to the Hebei Journal of Medicine, isatis has the ability to promote a normal, balanced inflammatory response while also possessing potent immune-supporting properties when it comes to promoting overall health and wellness. The journal also indicates that isatis can support the body's normal production of NK cells.
For more information about immune support and ordering information for
Super Immune5 Plus™
, visit HealthResources.net.
Company Bio
Health Resources has offices in Alabama and product manufacturing occurs in the United States. Products include special formulas to address such areas as heart health, circulation, memory retention, general wellness, vitamin D deficiency, immune support, cholesterol support, blood sugar balance, women's and men's wellness, joint and bone health and digestive health. For information, visit www.healthresources.net.
Layne Lowery is the president of Health Resources™, a manufacturer of high-quality nutritional supplements. In the health business since 1994, Layne's passion is providing affordable natural health solutions and educational tools based on the best scientific research available to empower his customers to make wise decisions on matters of personal health.
###