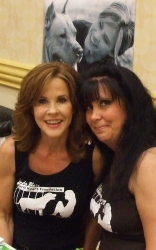 Parsippany, NJ, October 27, 2010 --(
PR.com
)-- Hollywood Arrives for the a Halloween Party on the East Coast of the USA. Hollywood Actress/Icon best known for her role in what has been described on the cover of it's Blu-Ray DVD as the Scariest Movie of All Time, "The Exorcist," along with dozens of other high profile celebrities will be appearing at Chiller Theater in the Hilton Parsippany, One Hilton Court, Parsippany, New Jersey 07054, Tel: 1-973-267-7373.
Along with Linda Blair, other celebrity guests include Barbara Eden, Larry Hagman, Bill Daily, Patty Duke, John Astin, Cheryl Tiegs, Richard Roundtree, Linda Grey, Eric Roberts, David Naughton, Gunnar Hansen, Traci Lords, Meadowlark Lemon, Sara Karloff & Bela Legosi, Jr., just to name a few. Check out the Chiller Website (cut and paste to your browser): http://www.chillertheatre.com
General Admission Tickets cost $25.00 and can be purchased at the door. Pre-Show Tickets cost $30.00 at the door and give you access to the show one hour earlier than the general public on Friday night and Saturday. Celebrities will be signing autographs and there are vendor tables to purchase exciting collectible items.
While everyone is looking forward to meeting Linda Blair, given her long time association with the horror film industry, Linda wishes to let the public know that she is appearing on behalf of her Linda Blair WorldHeart Foundation for Animal and Human Welfare. Linda has worked tirelessly, contributing all of her time and finances toward her life's truest passion: Animal Rescue, Animal Adoption & Human Welfare Services. Linda wants to spread the word that the Animal world is in a Crisis Situation and she is asking for help, support and tax deductible donations from the public to help her continue the quality care she provides to all in need of safety and shelter.
With the fun of the fall season & Halloween celebrations, it is hoped that all those in attendance will find it in their hearts to make thoughtful, charitable donations to the Linda Blair WorldHeart Foundation. Then Linda, Helen, Anthony Tedesco, Kelli Dore and all of the many hardworking foundation volunteers can continue helping Linda with her loving and amazing Animal Rescue Services. For those wishing to donate directly to the Linda Blair WorldHeart Foundation, please visit her website at (cut and paste to your browser) : http://www.lindablairworldheart.org
There will be a costume contest at this event. So dress up and spend your Halloween Hollywood Style at Chiller Theatre. It will be a weekend that promises 3 days/nights of wonderful Halloween memories. Looking forward to seeing everyone starting this Friday night, October 29th, 2010 from 6 p.m. to 11 p.m.
###