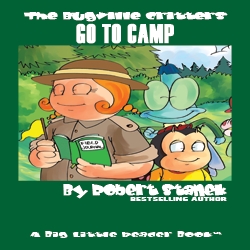 Seattle, WA, November 04, 2010 --(
PR.com
)-- Robert Stanek's 20th Bugville tale is coming to print for the first time officially on November 4, 2010. Robert Stanek quietly worked on the Bugville Critters for 15 years, satisfied with only the gleeful cheers, laughs and giggles of his children who delighted to hear his tales of Bugville and a little bug called Buster. As his children got older, they urged him to get the books published so other children could enjoy them as much as they did, and that's exactly what Robert Stanek set out to do in 2004.
Go to Camp has special meaning to Robert Stanek, as some of his fondest childhood memories are of Camp Timber-Lee in East Troy, Wisconsin. As a young child, Robert Stanek's family was very poor. He was one of five children raised by a single mom. When asked, Robert recalls clearly days and weeks where flour and water pancakes were the only meals at home and school lunch was the only real food he ate. School and the library were places Robert could escape the poverty and violence that filled his early life.
His lifelong love of reading and writing began in the libraries of Racine and Kenosha Wisconsin and in the classrooms of Janes Elementary School in Racine, Wisconsin. He started penning his first stories and keeping a journal as soon as he was old enough to hold a pencil and write on paper. He always had a book, a notebook or both in hand and books like Robinson Crusoe, Treasure Island, Twenty Thousand Leagues Under the Sea, and The Call of the Wild inspired his earliest stories.
"Camp Timber-Lee was a special treat paid for by my grandfather and grandmother," Robert Stanek said. "I went the first time when I was ten years old with an older cousin. My grandfather and grandmother planned to send two grandkids each summer, so I didn't get to go the next year. But as fate or luck would have it, I got to go each summer after, as my other cousins didn't like being away from home. Just thinking about Camp Timber-Lee brings a flood of memories for me of fellowship, fun-filled activities, and new adventures."
Robert Stanek went on to say, "Buster's adventures in 'Go to Camp' are based on my own childhood memories. His anxiety over going to camp is what I felt that first time. I think every child is a little worried about going to summer camp, especially ones where you stay at camp for a few weeks.
"Camper Becca, the camp counselor, Buster meets is modeled on memories of one of my favorite camp counselors. Female counselors aren't assigned to boys, but campers do see them throughout the day at various activities and meal times.
"The activities Buster does at camp are very much the activities I did at camp. Camp is where I learned to swim and sail. It's where I learned to paddle a canoe and kayak. It also where I learned about nature and what inspired a lifelong love of nature and the outdoors.
"And yes, it's true not every child at camp is good by nature. But as in the book, those who try and want to change can, and they can become good friends too."
Ask, and Robert will tell you another special thing about camp: Meals were included. As a technology journalist, Robert has written for PC Magazine, Dr. Dobbs, TechNet Magazine and a variety of other leading magazines. As a technology writer, he's has written for Simon & Schuster, Random House, Macmillan, Pearson, Microsoft, O'Reilly and other publishers. Of that, he says, "What I love most is writing books that help people. My technical articles and books have helped millions of readers learn essential job skills. I want my children's books to help kids learn essential life skills."
For more information, visit www.bugvillecritters.com and www.reagentpress.com.
Go to Camp (The Bugville Critters #20)
Robert Stanek
RP Books & Audio - Reagent Press
ISBN: 978-1-57545-178-7 $8.99 34pp
Available at Ingram, Amazon.com, Barnes & Noble and elsewhere.
RP Books & Audio was founded in 1994 as Virtual Press. Our products fall into four major categories: children's fiction, teen fiction, adult fiction and nonfiction. Our imprints include Reagent Press, Reagent Press Books for Young Readers, RP Audio, RP Audio Kids, and Classroom-To-Go. www.reagentpress.com
###