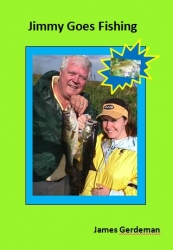 Coral Springs, FL, November 11, 2010 --(
PR.com
)-- James Gerdeman has combined the use of family photos to accentuate the catch and the antics of his brothers to promote the sport of fishing with family and friends. The walk to Plum Creek with the mystery of Big Bend offers a tinge of excitement for the lazy days of summer. Booker's Pond and King's Pond have both embarrassing and sentimental episodes. Road trips to the lakes and rivers of Ohio and Michigan provide good old fashion fun for all. Jimmy Goes Fishing is in conjunction with Lulu, the world's fastest-growing provider of print-on-demand books.
Jimmy Goes Fishing is a derivative work from Mr. Gerdeman's Jimmy a story about four boys growing up in Kalida, Ohio in the 50's. New adventures have been added to accentuate the fun fishing can be. This book is meant to entertain both young and old.
Jim came to Lulu because he found it has a well thought out online support for what he wanted to accomplish. Jimmy Goes Fishing is available for purchase at www.lulu.com, in a marketplace filled with other unique surprises.
Link to Publication*: www.JDGerdeman.com for more details and links to www.lulu.com
About Author
James Gerdeman earned an Industrial Engineering degree from the University of Dayton. His book Jimmy, about boys growing up in the 50's, has entertained many. Smoke Signals You Too Can Quit shows his diversity. His first book, Radio Frequency Identification Application 2000, was published by Research Triangle Associates. Jim has always pushed technology for society. He has 10 books to his credit in a variety of topics. Recently Jim has built Photo Radar and Enforcement systems for municipalities. He is expert in RFID in the electronic toll systems. More information at www.JDGerdeman.com.
About Lulu
Founded in 2002, Lulu is the world's fastest-growing print-on-demand marketplace for digital do-it-yourselfers. Please see www.lulu.com for more information.
###
Media Contact: James Gerdeman, jdgerdeman@aol.com, Cell Phone 786-256-8902.