Curtains Up for Scene Partner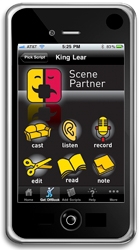 Norwalk, CT, November 20, 2010 --(
PR.com
)-- In January 2010, Kevin Smith, owner of MyTheaterApps.com was starting to put together the content for a new iphone app, Scene Partner, that would turn the iPhone into a tool to help actors memorize their lines. Actors would be able to load scripts into the phone via a website, and the app would use a text-to-speech program to read the various parts. Actors could choose to play back entire sections of the script, or just the lines around their own parts, and they could record their own voices as well.
Ambitious task to be sure. But he knew that in the visually savvy world of today's mobile devices and web, the graphics would have to play a critical role in the development and success of this app. Looking at the branding work of TFI Envision, Inc, he knew that we would be a perfect partner for Scene Partner.
The initial strategy was to develop a demonstrative app icon that would stand out from the crowd and would work hard to communicate what the app's function was all about. It needed to quickly communicate both theater and dialogue. Stylizing the classic comedy/tragedy masks, connected by an iconic dialogue balloon, created the app icon for Scene Partner. This clean and simple graphic treatment continues through to the navigation buttons - from a "casting couch" for the cast section, to "scissors" for editing.
The opening sequence for the app literally "sets the stage." Each mask is moved into place by a stage hand while the dialogue balloons drop in from the rafters to complete the icon. Once in place, the "lights" go out and the dramatic black backdrop falls into place as the words Scene Partner is revealed. The website
http://ScenePartnerApp.com/sp/
follows the lead from the app with easy to navigate, informational pages throughout.
"TFI Envision really captured the essence of what the app was all about, in a way that would immediately communicate to the app's target market. The attention-grabbing design helped immensely when Apple was evaluating it for their 'New and Noteworthy' section. TFI Envision's integrated approach to the App Store icon, app interface design and website helped put one 'face' on the brand," said Kevin Smith, Owner of MyTheaterApps.com
The Scene Partner app was successfully released to the public early November 2010.
Within the first week, the App Store listed it as "New and Noteworthy." The Wall Street Journal Technology News and Insights section - Digits - ran a story about this app in their "App Watch" section on Nov 15, 2010.
Scene Partner was tweeted by Tom Cruise, was mentioned by the American Theater Wing (producers of the Tony Awards) and by the Public Theater in NYC on Nov 16, 2010.
###
Contact
TFI Envision, Inc.
Elizabeth P. Ball
203-845-0700
www.tfienvision.com

Contact