The Victory Center for Autism Will Host a "Victory Royale Casino Night" in Support of Children and Families Affected with Autism in South Florida
Join The Victory Center for Autism and Behavioral Challenges on Thursday, March 3, 2011, and have a great night of Vegas-style excitement, while helping out a good cause at the same time.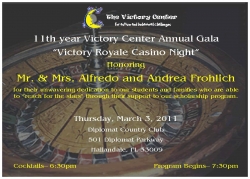 Miami, FL, December 27, 2010 --(
PR.com
)-- The 11th Year Anniversary Gala "Victory Royale Casino Night" will host a casino night fundraiser on Thursday, March 3, 2011, starting at 6:30pm, at the Diplomat Country Club Hallandale, Florida. The event will be an evening of charitable gaming, entertainment, food, silent auction, live auction and raffle prizes. Proceeds from the Annual Gala will be donated to The Victory Center for Autism and Behavioral Challenges. The mission of The Victory Center, a Florida non-sectarian, non–for-profit Corporation, is to provide children with Autism and similar disorders comprehensive individualized therapy. The students receive one-to-one/ two-to-one student- teacher ratio therapy within a classroom setting based on the principals pioneered by B.F. Skinner and his Applied Behavior Analysis. The money raised at the "Victory Royale Casino Night" will help fund The Victory Center's educational programs and services such as primary and secondary schooling, life skills training, and respite programs.
Thalya Olmos, Executive Director, states, "Early one-to one and/or two-to-one Applied Behavioral Analysis intervention is the key to the future for our students who face serious challenges in their younger years of life. It is this very intervention that is provided by The Victory Center which sets a stepping stone for our children to succeed in the future. This is why our programs and services are so unique within our community."
Tickets for the charity event are $150.00 per person. Ticket price includes admission, hors d'oeuvres, drinks and a $10.00 playing voucher. Sponsorship opportunities are also available. Sponsors receive company signage on event tables, free admissions tickets, and a listing in the event program. Merchandise donations for the auctions and raffles are also welcome. All donations are tax-deductible.
Marking their 11th year milestone, The Victory Center will be honoring Mr. and Mrs. Alfredo & Andrea Frohlich, for their unwavering dedication to the Victory School students and their families through the Frohlichs' support of Victory's Scholarship Program. Its the Frohlichs' work and dedication that has made The Victory Center a place where children and families can come together as one.
Hundreds of guests are expected to attend. Supporters include prominent members of the banking, real estate, building and legal communities. The event draws from the diverse South Florida community, from South Dade to West Palm Beach. Educational Director Dr. Anja Kroell states, "Our Annual Galas are very important fundraising events for The Victory Center. It is because of these sponsorships that we are able to offer state-of-the-art, scientifically based services at a 1:1 or 2:1 ratio. As a direct result of our fundraising efforts, we are also able to offer additional support services, such as respite care and scholarships, to our families. Our services are unique and utilize the principles of ABA for all our programs, which are also accessible to families in the community not enrolled in our day school."
Sponsorships opportunities and tickets are still available. Individual tickets are $150.00 each and can be obtained by contacting Thalya G. Olmos, Executive Director for The Victory Center at 305-466-1142 extension 212 or tolmos@thevictoryschool.org.
###
Contact
The Victory Center
Thalya Olmos, M.B.A
305 466 1142 x212
www.thevictoryschool.org

Contact