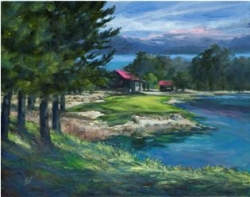 Powell, OH, November 26, 2010 --(
PR.com
)-- Golf Impressions Plus (www.golfimpressionsplus.com), an online art gallery featuring the golf course landscape paintings of Ohio artist Guy Salvato, announced today the unveiling of six new original paintings.
Included in the new series are oils depicting signature holes from Royal St. George's, Tralee, Hickory Hills, Tobacco Road and Dormie golf clubs. All original pieces were painted in 2010.
"Each painting holds some connection or personal history with me," stated Salvato "I painted Tralee after re-discovering an old photograph of it I'd taken during a golf excursion with close friends nearly twenty years ago. I am a member at Hickory Hills in Central Ohio and always enjoy painting my 'home' club. Few American locales equal Pinehurst in terms of heritage, course excellence and natural beauty – Tobacco Road is a favorite of mine there. I learned from the course owner that the red roofed structures on 13 were originally hunting cabins. There's a rich story – vignette really, behind all of these pieces which makes them fun and fulfilling to create and to view and contemplate thereafter."
Salvato's latest works can be viewed online at www.golfimpressionsplus.com. Giclee reproductions are also offered and original and commissioned works are available by contacting Golf Impressions Plus.
About Golf Impressions Plus
Golf Impressions Plus (www.golfimpressionsplus.com), is an online art gallery featuring the golf course landscape and other paintings of Ohio artist Guy Salvato. Giclee reproductions, original and commissioned pieces are available to individuals, businesses, and private and public golf clubs.
About the Artist
Guy Salvato was born in Glen Cove, Long Island. He earned a B.S. in Advertising Design from The University of Cincinnati and studied drawing and watercolor under Robert Fabe, Louis Rockwood and Reginald Grooms. For 35 years, Guy and his partner, Fred Coe, ran a successful design studio, gaining international recognition as one of the finest firms in the U.S.
Guy now directs his energies and talent to expressing himself through painting. He is a member of the Central Ohio Watercolor Society and the Worthington Area Art League. Guy's golf landscape paintings have been featured in The Academy of Golf Art's 2005 Juried Exhibition and Golf Style: Homes and Collections Inspired by the Course and the Clubhouse (on sale December 7, 2010).
For more information, please visit
www.golfimpressionsplus.com
or contact 732-266-1877 or email info@golfimpressionsplus.com.
###