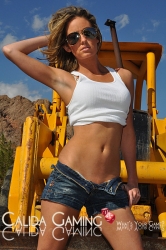 Gibraltar, Gibraltar, January 27, 2011 --(
PR.com
)-- Calida Gaming announce the launch of
Miss Online Casino 2011
and the winner of Miss Online Casino January Tiffanie Craddock. With this launch Calida Gaming aims to further bring the glamour and excitement of Las Vegas into the homes and minds of it's players.
The world of
Online Casino
games has always attempted to bridge the gap between the virtual world and the real brick and mortar casino's and with the launch of Miss Online Casino Calida will bring the two a little closer.
Calida Gaming is a trusted name in the Online Casino industry and it's team is constantly working to identify and bring to it's players and members of it's players club the very best Online
Casino Bonus
cash available.
Calida Gaming have taken this one step further for 2011 with the addition of Bonus Girl to the team, hosted by Hollywood Actress and Model Lindsay Robba.
This new Casino Super Hero will be appearing in the Calida Gaming Web TV episodes and using all her super powers to bring members of the Calida Gaming family even more fun and excitement to their online play.
Miss Online Casino January Tiffanie Craddock.
When asked about clinching the title of Miss Online Casino January this is what Tiffanie had to say, "It's an absolute privilege and honor to be named Calida Gaming's Miss Online Casino for January. I am overly excited and appreciative to have the chance of winning the overall title of Miss Online Casino 2011. Good luck to all the other contestants."
Tiffany Craddock is not only a stunning beauty with a BS in Marketing but the queen of Las Vegas product placement, public relations and modeling (Lady Gaga Glam Live) in many of Las Vegas trade shows including CES Show January 2011 and promotions in land-based casinos. It may have made her a hit within the exotic world of Las Vegas, but it is the Online Casino industry she is keen to conquer next as Miss Online Casino January.
The Nevada born 23-year-old also has a strong desire for print, promotional modeling and TV work, being Miss Online Casino January will help her in her latest career move.
Tiffany has just been made an ambassador for the new revolution of Online Casinos with Calida Gaming - a new concept which will see the world of online casino excitement transformed into a magical interactive cosmos for players all over the planet to experience and enjoy.
Their Calida Girl admits, however, that she is utterly overwhelmed. Congratulations to the first ever "Miss Online Casino" winner for January, Tiffany Craddock.
About Calida Gaming:
The Calida Gaming Board of Directors have over 25 years of direct experience in the Gambling Industry and have managed both Off Line Bookmaking business and
Online Gambling
sites.
They can trace their history operating gambling businesses back over four Generations and 84 years using this wealth of experience to provide their Players with the very best deals and the safest places to play.
There are many sites who claim to offer the best deals, they do however only offer the biggest list of places to bet, Calida Gaming works on a different philosophy and believe they should exclude operators that do not come up to scratch no matter how much commission they may wish to pay.
You will only ever be shown deals, offers and places to play that meet our very strict guidelines at Calida Gaming.
About Lindsay Robba:
Lindsay C Robba, current TV host / Writer / PR at Calida Gaming, Actress featured in four movies latest "Open Graves," worked with MTV, WTV and PR Associates Shappiro's in New York promoting Sex & City 2. Acted as an Executive Producer and Models Agent in Los Angeles / New York in numerous occasions.
###