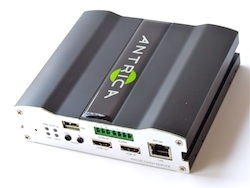 Bray, United Kingdom, January 29, 2011 --(
PR.com
)-- Antrica a specialist supplier of Video over IP products has released the ANT-32000A Full HD 1080P30 video server and decoder. The ANT-32000A is the flagship product in a full range of servers and IP cameras. Offering features normally found on products costing several thousand dollars the ANT-32000A starts at prices under $1000. Video or PC images in YPbPr or RGB format can be streamed over a LAN or WAN via the HD SDI or HDMI inputs plus DVI . The ANT-32000A can be configured as an encoder or decoder hence offering the ability to convert Video to IP and back to Video with no PC involved. High quality stereo AAC audio in both directs offers Broadcast, Home entertainment, Digital signage plus many other applications.
A USB port allows for local recording to memory stick or hard disk and power can be external or PoE. Multicast is also supported where many viewing clients will watch the same video stream. The ANT-32000A offers standard streaming protocols to allow other products such as set top boxes to view the streams, RTSP MPEG Transport stream are the main two formats. Using the latest H264 video codec technology, in common with all Antrica products, ensures low bit rates of 4-8MBits/sec for full HD. A Free suite of viewing and recording software is provided or alternatively the video stream may be viewed with Internet Explorer or VLC player.
Antrica have already secured applications in Media, Law Enforcement, Utilities and Broadcast for the ANT-32000A.
Applications include Medical: sending CT or MRI scanner real time images over the internet. Broadcast: sending film clips to remote locations. Law enforcement: Video Walls showing both PC images and Video from remote locations;
For more information contact: Antrica +44 1628 626098 email sales@antrica.com
www.antrica.com
###