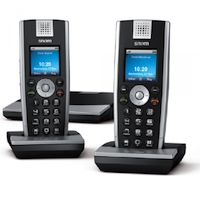 Woburn, MA, February 08, 2011 --(
PR.com
)--
snom technology
, a leading developer of IP desktop phones and IP communications software for the enterprise and small and medium sized business markets, has taken office mobility a step forward with the launch of the snom m9 DECT phone, a full-function mobile handset for seamless, business-class VoIP. As the newest member of the snom phone family, the snom m9 was introduced for the first time in the Americas at the IT Expo East 2011 in Miami, FL, February 2-4.
The snom m9 combines snom's highly-interoperable IP communications firmware with an advanced DECT handset, giving business users an affordable cordless VoIP phone that integrates with all major SIP-based IP PBXs, including snom's own snom ONE IP PBX. Each snom m9 supports four concurrent calls and the ability to interconnect nine handsets at once, providing a highly-scalable cordless option for small and medium-sized businesses.
"The mobile-carrier world has given us a host of new mobility features that are attractive to users in an office setting but not possible with traditional desktop phone," said snom COO Mike Storella. "The snom m9 bridges the two, providing the best functionality of the mobile world with the desktop features essential to advanced IP communications."
The DECT-based snom m9 provides interference free communication by making use of a dedicated DECT frequency band, providing the high stand-by time and superior speech quality demanded by modern users. As an IP phone, the snom m9 also provides internet application integration, making it a step ahead of traditional WLAN handhelds.
Standard features include hands free mode and calling line identification, as well as typical mobile-phone features such as on-board address book, calendar, calculator and alarm functions. Advanced features include IPv6 support, voice encryption, pre-installed security, and color picture caller ID. The snom m9 is also fully functional in any open standard SIP environment.
"In environments where employees are on the phones for long periods of time, many need the functionality that comes with IP telephony, but also want the ability to get up and move around the office," said Michael Knieling, Executive Vice President of Sales and Marketing at snom. "This is the ideal phone for any enterprise, SoHo or call center looking for an affordable, fully functioning IP phone not directly tethered to the desktop,"
Like all snom phones, the snom m9 also boasts an elegant design and a highly intuitive interface, featuring an illuminated keypad and TFT color display and menu-driven graphical user interface for easy access to its broad array of advanced phone features.
To watch a video description of the m9, go to
http://www.youtube.com/watch?v=uIP0cGyu5Wg
For more details information about the snom m9, go to www.snom.com.
For more information about snom in the Americas, please visit us at
www.snomchannel.com
; follow us on Twitter at www.twitter.com/snom; become a fan on Facebook at www.facebook.com/snom.VoIP.phones; or join our LinkedIn group at www.linkedin.com/groups?gid=1773766.
About snom
snom technology AG develops and manufactures VoIP telephones and related equipment based on the IETF open standard, SIP (Session Initiation Protocol). Recognized for its high-quality, customizable, and cost-effective business solutions, snom is also differentiated by the company's history in the VoIP industry, and its dedication to high security standards. All of snom's products, from desktop phones to IP PBXs, are designed to be fully interoperable with leading communications equipment vendors, and in 2010 the snom 300 desktop phone was officially accepted into the Microsoft Lync device compatibility program, qualifying it as a recommended device for use with the Microsoft Office Communications Server 2007 R2 and Lync server. snom customers benefit from the interoperability and flexibility that the snom telephones offer, including plug and play integration and universal compatibility with any SIP-based telephony platform. Founded in 1996 and headquartered in Berlin, Germany, snom technology AG also has offices in Italy, France, the United Kingdom and the US. The company distributes its fourth generation SIP phones through its network of more than 200 authorized reseller partners in 60 countries worldwide. For more information on snom, please visit www.snom.com.
###