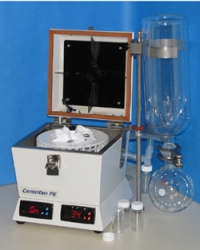 Franklin, MA, March 02, 2011 --(
PR.com
)-- Modular SFC is introducing a novel, lab scale evaporation device that enables reliable, sample-safe drying of solutions containing radioactive and other toxic compounds at Pittcon 2011 in Atlanta, GA, March 13-18. The Centrifan PE Personal Evaporator is a centrifugal concentration/evaporation system that produces its own drying gas flow within the closed system, eliminating the potential for sample loss and radioactive contamination.
The system's self-generating blow-down technology evaporates solvents without vacuum. The sample vials are carried in the center of a centrifugal fan which produces the blow-down gas flow which is directed at the sample to cause evaporation. The Centrifan PE also passes some of the recirculating flow carrying evaporated solvent vapors through a cold trap where solvent vapor is condensed and collected. In this way, the system condenses the solvent that it evaporates, and the same recirculating volume of gas never leaves the confines of the system. The closed design is particularly advantageous to chemists working with radioactive and other highly toxic compounds.
Centrifugal force from the spinning fan/rotor assembly keeps samples secure in their containers while lack of vacuum prevents contamination and loss from bumping and splashing. The technique eliminates the need for a vacuum pump or a large supply of blow down gas, significantly reducing cost, complexity, noise, and maintenance compared to rotary evaporators, vacuum centrifuges, and conventional blow-down equipment. Operators simply load samples, set the temperature, and close the lid to start the rotor - no complex programming is required.
The Centrifan PE is ideal for preparing radiolabeled compounds for mechanism of action studies in drug discovery and diagnostic isotope preparation of injectable solutions. It is also useful to synthetic and medicinal chemists investigating the environmental fate of new compounds and the toxicology and metabolism of various organisms. An optional off-timer is available for stopping the evaporation process to concentrate solutions instead of drying them completely.
With a small 8 x 12 inch footprint and only 18 inches high, the self-contained Centrifan PE requires little space and will fit in a hotcell. The Centrifan PE provides rotor options which accommodate 6 x 20 mL Scintillation vials, 8 x 16 mm x 100 mm tubes, 16 x 1.6 mL Eppendorf tubes, 8 x 4mL (1 dram) vials, and 6 x 15 mL Falcon tubes. Rotors for other container formats are available. This versatile, reliable, and compact evaporation system costs only $4,900.
The Centrifan PE will be on display at Sorbent Technologies' Pittcon Booth #3426. Sorbent Technologies is a distributor for Modular SFC, Inc.
For more information, please contact Herbert Hedberg, Modular SFC, Inc., 842 Upper Union Street, Franklin, MA 02038, (508) 520-4000, infor@modularsfc.com www.modularsfc.com/centrifan_pe
###