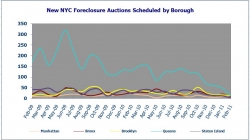 New York, NY, March 22, 2011 --(
PR.com
)-- PropertyShark.com, the premier real estate research site, today released its monthly report covering first-time residential New York City foreclosures for February 2011.
Key Report Findings
* New scheduled foreclosures in NYC were down 82% in February 2011 over February 2010 and were down 59% over January 2011.
* Compared to the February 2010 level, the number of foreclosures scheduled for the first time was down 91% in Queens and Staten Island, 69% in the Bronx, 67% in Brooklyn, and 52% in Manhattan.
* Pre-foreclosures in NYC were down 14% compared to February 2010 and down 6% from January 2011.
To browse
New York foreclosures
or
New Jersey foreclosures
, go to: http://propertyshark.com/mason/Foreclosures/
PropertyShark.com aggregates real estate data from hundreds of public and proprietary sources into an easy-to-use yet comprehensive property research website covering two dozen major markets. Site visitors can view detailed property reports for almost every residential or commercial property, scan recent sales comparables of similar properties to determine market values, browse foreclosure listings, and much more.
About PropertyShark
A wholly-owned subsidiary of Yardi Systems Inc, PropertyShark.com offers the information essential to evaluate real estate and make informed decisions. PropertyShark.com, which was named one of TIME.com's "Top 50 Websites of 2009″, provides real estate professionals, investors and home buyers with data and tools on all aspects of property, including building details, ownership information, recent sales prices, property values and comparable sales, sophisticated maps, for sale and for lease listings, foreclosures and pre-foreclosures, mailing lists, photos, and more. PropertyShark.com was founded by Matthew Haines in 2003. For more information or a free basic account, visit www.PropertyShark.com.
###