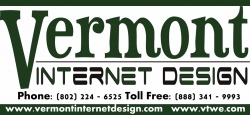 Marshfied, VT, March 29, 2011 --(
PR.com
)-- The company has announced that all customers who are in the market for mobile applications can receive a 10% discount off their entire first invoice. The company produces applications for iPhone, Windows Phone, Blackberry and Android. The company's primary business is web design and programming services.
The owner of Vermont Internet Design LLC, John Anderson (Owner/Developer) said in a brief statement:
"We are looking forward to expanding our reach in the mobile application development field. Mobile applications are becoming a part of peoples' everyday life.
"I remember reading book 10 years ago written by Bill Gates, and it discussed having everything in one small device. Your money, contacts, identification, and everything are in your device. phones seem to me to be the an exact resemblance of this technology. We want to get into this field now because it could take us anywhere. I have spent a lot off time educating myself and finding other skilled developers to assist our company in becoming a leader in the mobile applications' development industry.
"This is just another way for our company to provide products that will have ongoing advertising benefits for our clients. It also allows our clients to get into the field now, 3, 4, 5 years from now we believe the mobile industry is going to be much larger. We hope our customers will thank us for introducing them to the technology."
You can submit the form on their website at
http://www.vermontinternetdesign.com
to request a free consultation.
Vermont Internet Design LLC is a web development company located in Marshfield, VT. They specialize in providing custom web solutions for professional clients and investors. This company was incorporated in the state of Vermont in April of 2006. They have a will to produce results, with the knowledge to get done challenging projects. Their projects include, development of content management systems, e-commerce systems, iPhone, Windows phone and Android development services.
###