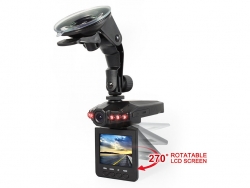 Burnaby, Canada, March 30, 2011 --(
PR.com
)-- tti has launched a new range of plug and play high definition video recording products into the school bus and transit passenger market under the brand name of "Buddy."
The "Buddy" range offers the highest resolution and frame rate combination in the mobile video market. Using H.264 compression it is a first with High Definition video quality and SD Card video storage. Designed for a customer who requires high quality recording but at an affordable price with HD solutions starting at just $325.
The Plug & Play range can be installed by a customer into a vehicle without incurring additional installation costs in minutes. Traditional video recorders in the market and can add an extra $150>$250 per vehicle. The benefit of plug and play solutions are that they can be installed easily in minutes and can also be moved to other vehicles within the fleet if required without any additional costs.
"Buddy" solutions enhance fleet control through features such as GPS tracking, High Definition, SD card (no moving parts) motion detection, swivel built in screen for viewer location and easy to use software.
For drivers and passengers, the "Buddy" range means increased safety, protection against litigation / student bullying and the opportunity to use the video for driver training. Due to the highly competitive pricing bus operators now have the opportunity to fit out their fleets with video surveillance cameras which until now might have been too costly with traditional DVRs on the market today. Due to tti's buying power and utilisation of consumer technology and pricing benefits they are able to offer these savings to their customers without compromising on quality and provide technology such as HD that is not currently available in the market.
For more information about Buddy range, please visit tti at
www.tt-i.info
, or Email:
sales@tt-i.info
About tti
tti. is the leading supplier of bus and coach plug & play mobile video surveillance. Their products are aimed at those operators looking for affordable recording solutions without compromising on quality. The product offering includes features such as High Definition recording, SD storage, motion detection and viewer screens which cannot be found in traditional DVR's on the market. They are dedicated to providing service and value for money in a solution that can be moved to other vehicles without occurring additional installation costs.
###