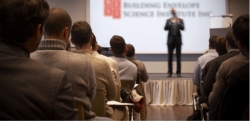 Gainesville, FL, April 01, 2011 --(
PR.com
)-- The Building Envelope Science Institute (BESI) will hold its next certification course for Defective "Chinese" Drywall Inspection and Remediation on April 11-12, 2010 at the Hilton Fort Lauderdale Marina located at 1881 SE 17th Street Causeway in Ft. Lauderdale, Florida. BESI provides the most comprehensive instruction and training for inspection and remediation of structures with Defective (Chinese) Drywall; since October 2009.
This is the most comprehensive course offered and covers topics such as inspection/identification techniques, corrosion, cross-contamination of building materials and personal belongings, multiple remediation methods, warranty program, scientific data, and removal of the stigma from having defective drywall. Graduates of this course are given the opportunity to qualify their work for a 10-year warranty which provides coverage for up to $500,000. This two-day course is accepted by the American Council for Accredited Certification (ACAC) for sixteen (16) recertification credits (Registration #10092301).
About BESI: The mission of Building Envelope Science Institute, Inc. (BESI) is to provide the highest quality of training, certification programs; resources as well as overall knowledge in successfully constructing, maintaining, and restoring building envelope construction. Visit the institute's "Nationwide Directory of Members" to locate qualified inspectors and remediators for defective (Chinese) drywall.
To learn more about the institute or the courses that are offered, go online to
www.BESInstitute.org
, or contact info@BESInstitute.org.
###