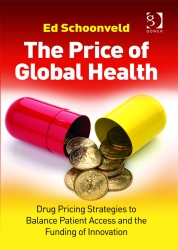 Evanston, IL, April 25, 2011 --(
PR.com
)-- As one of the most debated yet misunderstood aspects of the pharmaceutical industry, global drug pricing has been at the forefront of political and public dissent for the past decade. Global pharmaceutical pricing expert Ed Schoonveld, who serves as principal for the market access and pricing practice at global consulting firm ZS Associates, offers an unprecedented look at drug pricing in his new book, "The Price of Global Health."
"The Price of Global Health: Drug Pricing Strategies to Balance Patient Access and the Funding of Innovation" (Gower; March 2011; $134.95 Hardcover;
http://www.zsassociates.com/thepriceofglobalhealth/
) thoroughly explores the pharmaceutical pricing process, its underlying market access, general business and ethical considerations, and its implications for payers, physicians and patients. It describes how pharmaceutical companies determine global drug prices in an increasingly complex global payer environment and depicts key factors that influence this process.
"The inherent complexity of the pharmaco-payer relationship can be summarized by what I like to call 'dinner for three,'" said Schoonveld. "Three people arrive at a restaurant with very different objectives. The first individual (or the physician) is there to order the meal, the second (the patient) consumes the meal and the third individual (the insurance company or the payer) pays the bill."
Schoonveld's analysis of this contentious dynamic will appeal to anybody interested, involved in or affected by the development, funding or use of prescription drugs. "'The Price of Global Health,' however, will be most important to pharmaceutical executives and other leaders and professionals in commercialization and drug development roles, including marketing, business development, market access and pricing, clinical development, drug discovery, regulatory affairs, health outcomes, market research and public affairs.
"In all my years of consulting and serving as a leader of the global market access and pricing functions at Wyeth, Eli Lilly and Co. and Bristol-Myers Squibb, one fact has remained unchanged," said Schoonveld. "Decisions of healthcare funding continue to be both economically and ethically complex, as they force a value to be placed on improvements of human life. To achieve a breakthrough, pharmaceutical companies must address payer requirements at each stage of the drug development process. They must also articulate their value in the healthcare equation and improve communications with payers, patients and the public in general."
Optimal Commercial Strategies For Pharmaceutical Companies
Pharmaceutical companies are under a lot of pressure today. From the large number of upcoming patent expirations to increased FDA trial requirements, growing payer controls and mandated discounts - all amount to low margins and a state where companies are challenged to fund innovation that helps ensure a secure future.
"Ed has a firm grasp on the complexities that life sciences firms must grapple with when it comes to pricing and his new book comes at a very opportune time for the healthcare industry," said ZS Associates Managing Director Jaideep Bajaj. "'The Price of Global Health' is Ed's attempt to help payers, physicians and patients better understand the drivers behind drug pricing decisions made in different parts of the world and to help the drug industry improve its communications with these very important constituents."
In "The Price of Global Health," Schoonveld discusses how pharmaceutical companies can significantly improve their market performance by incorporating the payer perspective into drug development decisions. He recognizes, however, that this is easier said than done. Many companies don't have the necessary in-house expertise. Even those pharmaceutical companies that do often struggle to incorporate pricing and market access approval requirements into every critical stage of their drug development process. Schoonveld suggests that this shortcoming is a critical market performance issue that deserves the CEO's immediate attention.
Drug companies must also strive to demonstrate meaningful and payer-relevant benefits over existing treatment options. Payer perspective on drug benefits differs from that of physicians and patients, and is often dictated by country-specific market access and pricing approval rules and independent committees. Schoonveld recommends companies build a strong understanding of benefits that resonate with payers - namely, public health benefits, economic benefits and breakthrough clinical benefits - and better incorporate these into their research and development phase and their drug's value proposition at its time of launch.
Finally, Schoonveld states drug companies should improve communications of commercial decisions to payers, patients and the public to both improve the pharmaceutical industry's reputation and avoid the risk of additional government intervention. He believes the industry should better communicate the life-saving impact of pharmaceuticals and the need to meet ongoing and future healthcare challenges. The industry should also address its complexities, such as its unusual cost structure, restrictions of direct communication and conflict between free trade and social pricing practices to patients and to the public in general.
Packed with these and other insights, Schoonveld's "The Price of Global Health" takes the reader on a global exploration of 12 key healthcare systems, including the United States, the United Kingdom and China. For more information, visit
http://www.zsassociates.com/thepriceofglobalhealth/
.
About the Author
Ed Schoonveld is one of the leading experts in global pharmaceutical pricing and market access. He has unparalleled experience as head of global market access and pricing functions in Wyeth, Eli Lilly and Co. and Bristol-Myers Squibb, as well as a consulting leader at Cambridge Pharma Consultancy and a number of other organizations. Currently, he is helping drug industry clients structure strategic solutions as Principal and Practice Lead for the Market Access and Pricing research and consulting practice at global consulting firm ZS Associates.
About the Book
Title: "The Price of Global Health: Drug Pricing Strategies to Balance Patient Access and the Funding of Innovation"
Author: Ed Schoonveld
Pub. Date: March 2011
Price: $134.95 Hardcover
Pages: 374
ISBN: 978-1-4094-2052-1
Website:
http://www.zsassociates.com/thepriceofglobalhealth/
About ZS Associates
ZS Associates is one of the largest global firms focused on sales and marketing effectiveness. ZS combines deep expertise with rigorous, fact-based analysis to deliver management, business operations and technology consulting to help companies improve performance and results.
With 19 offices around the world, ZS Associates has worked with more than 700 companies in 70 countries across consumer products, energy, high-tech, insurance, medical products and services, pharmaceuticals and other industries. Founded in 1983, ZS comprises multiple affiliated legal entities. Find more at
http://www.zsassociates.com
.
###