Fitness/Swimsuit Model & Former NFL Cheerleader Samantha Baker Signs Large Spokesmodel Contract
Professional fitness model Samantha Baker signs with pharmaceutical giant Gentech Pharmaceuticals as spokesmodel for the extremely popular weight loss supplement PhenTabz.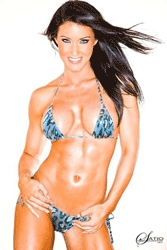 Fort Myers, FL, May 19, 2011 --(
PR.com
)-- Sexy Samantha Baker turned her recent international fitness competition victory into gold, as in currency, when she was signed by pharmaceutical powerhouse Gentech Pharmaceutical.
"Samantha is more than just an exceptionally beautiful lady that just happens to have what many are calling the perfect body," says Gentech Pharmaceutical CEO Derek Vest. "Samantha has the unique combination of motivation, business savvy and high intellect – a rare quality that enables her to be the perfect spokesmodel."
While her contract value is well into the seven figures, it is important to note that Samantha has allocated a portion to be donated to one of her favorite charities – St. Jude Children's Research Hospital.
About Gentech Pharmaceutical
Gentech Pharmaceutical
is a world leader in designer pharmacological alternatives dedicated to applying state of the art technologies to provide safe and effective products.
###
Contact
Gentech Pharmaceutical
Kristin Carstensen
888-666-1714
www.gentechpharma.com

Contact