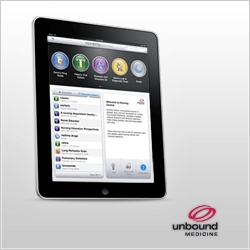 Charlottesville, VA, May 24, 2011 --(
PR.com
)--
Unbound Medicine
, a leader in knowledge management solutions for healthcare, today announced the extension of the Unbound™ Platform with multi-dimensional capabilities for Apple's iPad®. This latest platform enhancement delivers in one application instant lookup of trusted content, powerful content personalization, push communications alerts, and knowledge sharing among friends and colleagues.
Unbound's platform enhancement arrives as many students and practitioners adopt the iPad for day-to-day knowledge management. Manhattan Research estimates that 30% of US physicians already own an iPad and 28% plan to purchase one in the next six months (Taking the Pulse® U.S. v11.0, Manhattan Research). Medical schools, nursing programs, and healthcare systems are also exploring how the iPad and other tablet devices can support clinical decision-making from any location.
Unbound's iPad-optimized solutions serve as a home base for healthcare professionals. With universal search, users find answers instantly from leading databases, texts, journals, news feeds, and interactive tools without the need for a continuous internet connection. Content, tools, and favorites can be customized to meet each user's personal needs. Push communications alerts including news, product announcements, renewal messages, and sponsor messages can be sent to the device on a dynamic schedule and segmented by user geography, role, or area of interest. And using content creation and sharing tools such as Unbound's Grasp™, users and organizations can build interactive learning and practice tools that can be shared informally with friends and colleagues or formally with class groups and association members.
"When it comes to a multi-purpose solution for education and point-of-care decision making, Unbound Medicine's iPad solution is clearly the best choice," said Brian Levine, MD, resident at Columbia University Medical Center. "Unbound continues to be at the forefront of delivering quality information and personalized features to support everyday work."
"Our new iPad capabilities exemplify the power of the Unbound Platform to meet the rapidly changing needs of users and organizations," said Bill Detmer, MD, president and CEO of Unbound Medicine. "Our end-to-end publishing platform and interactive capabilities enable our publishing and association partners to develop a daily relationship with users—providing up-to-date content, communications, and community on a device of their choice."
iPad extends Unbound's growing network of supported platforms, including the web, Apple iOS, Android™, Windows Phone®, BlackBerry®, Windows Mobile®, and Palm®.
To request information about Unbound Medicine's new platform capabilities,
click here
.
About Unbound Medicine
Unbound Medicine is a next-generation healthcare knowledge company. Unbound produces award-winning mobile and web products for partners and healthcare professionals using its end-to-end digital publishing platform and information architecture expertise. Additional information is available at
www.unboundmedicine.com
.
###