Hitachi Data Systems in Conjunction with Hitachi Foundation Are Pleased to Announce the Donation of $2,500 to Barefoot Kids Foundation
Barefoot Kids Foundation provides New Footwear for Children that are underprivileged, distressed or live below the poverty level in the U.S.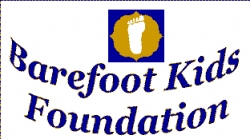 San Diego, CA, May 24, 2011 --(
PR.com
)-- Hitachi's generous donation will provide New Shoes for 100 Kids in San Diego County that are distressed and in need of proper fitting shoes.
The San Diego based Hitachi Data Systems has chosen Barefoot Kids Foundation to utilize its local distribution network in San Diego County to manage the implementation and coordination of this donation.
Hitachi Data Systems provides best-in-class information technologies, services and solutions that deliver compelling customer return on investment (ROI), unmatched return on assets (ROA) and demonstrable business impact. Their customers trust Hitachi Data Systems to protect their data, the raw resource that lies at the heart of their businesses.
The Hitachi Foundation is an independent nonprofit philanthropic organization established by Hitachi, Ltd. in 1985. Their mission is to forge an authentic integration of business actions and societal well-being in North America. The Foundation is innovative in its philanthropic efforts, determined to learn about the societal impact and limits of corporate citizenship and corporate social responsibility. This autonomy is also a statement about Hitachi's integrity and sincere desire to contribute to society in the U.S.
Barefoot Kids Foundation national distribution network operates in 12 States in 27 Cities with 31 Distribution partners that is comprised of established Child Charity Service Organizations such as Boys & Girls Clubs and Big Brothers & Big Sisters, Salvation Army, Schools, Child Abuse and Neglect centers, Homeless Shelters and Licensed State Agency's currently helping Children with their daily lives. Learn more at: www.barefootkids.org
###
Contact
Barefoot Kids Foundation
Loret Ross
877-580-6674
www.barefootkids.org

Contact