Laser Eye Center Acquires New iFS Laser for Eye Surgery
First of its kind laser in North Carolina can replace surgical blade for corneal transplants and other eye surgeries.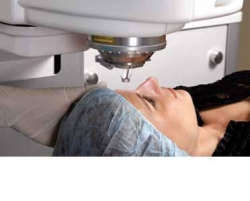 Cary, NC, June 22, 2011 --(
PR.com
)-- Medical Director Dr. Dean Dornic of the Laser Eye Center of Carolina announced that his center has purchased and installed the first iFS femtosecond laser in North Carolina. The iFS laser is a fifth generation IntraLase laser. IntraLase lasers are commonly used in LASIK eye surgery. The iFS model of IntraLase laser has some unique capabilities applicable to LASIK but also to other types of eye surgery.
IntraLase lasers have revolutionized LASIK eye surgery by replacing an oscillating metal blade with a laser to create the corneal flap: the first step in the LASIK procedure. Use of the IntraLase laser has dramatically reduced the incidence of LASIK complications. Clinical studies performed by the Department of Defense using the IntraLase laser has led to the acceptance of the LASIK procedure by the military for combat troops, pilots and even astronauts. The IntraLase method is now the dominant method for performing refractive surgery by US physicians making up an estimated 61.1 percent of all U.S. LASIK procedures.1
The iFS laser is a significant upgrade to its predecessors with more advanced capabilities. It is faster with the ability to cut complex shapes. Dornic expects to use the laser to perform LASIK as well as other eye surgeries including corneal transplants. "The unique capabilities of this laser will allow for more precise incisions and 'lock-tight' or 'zipper' closures which result in more secure wounds and better results. With this laser I will have the ability to construct matching 'tongue-in-groove' incisions and other shapes on the cornea that cannot be created with other lasers or blades," said Dornic.
Dr. Dornic is accustomed to pioneering. He has been performing LASIK eye surgery and corneal transplants in the Raleigh-Durham area since 1998. He has been performing IntraLase all-laser LASIK procedures since 2005 and is acknowledged as the first Raleigh area ophthalmologist to perform IntraLase. Dornic expects his existing base of LASIK and corneal transplant patients to benefit immediately from the introduction of this technology. "Clinical studies prove that this technology leads to maximum flap stability and a lower incidence of certain side-effects such as dry eye," said Dornic. "Patients also demonstrate better outcomes and quicker vision recovery. Our corneal transplant patients will benefit from more secure wound closure, better centration of the graft and lower degrees of induced astigmatism."
In addition, Dornic foresees other clinical uses for the iFS laser. "Obviously precision is a key ingredient in eye surgery. Ophthalmology as a field has led the way in microsurgery because the eye is a very small organ and surgery involves operating on tiny structures. Use of the femtosecond laser is already well established in LASIK and cornea surgery. Preliminary work is being done on using this laser to perform certain parts of cataract surgery. We expect to introduce this application in the very near future. We are proud to be on the forefront of such leading edge technology and are excited about bringing such an advanced medical innovation to North Carolina."
About Doctor Dornic and the Laser Eye Center of Carolina
Dr. Dean Dornic is a board-certified ophthalmologist who is the founder and medical director of the Laser Eye Center of Carolina located in Cary, NC. Dr. Dornic specializes in LASIK, cataract surgery and corneal transplant surgery. He is the author of an ophthalmological text book and has lectured on vision correction procedures. He is a recognized authority on LASIK having served as a featured expert on vision correction on the websites AskLASIKDocs.com and MonkeySee.com. In the addition he has been the recipient of several awards including inclusion in "America's Top Ophthalmologists" and "Top 50 LASIK Surgeons."
For more on Doctor Dornic and the Laser Eye Center of Carolina visit:
http://www.visionauthorities.com
.
IntraLase and iFS are trademarks owned by or licensed to Abbott Medical Optics, its subsidiaries or affiliates. For more on Abbott Medical Optics, IntraLase and the iFS laser visit:
http://www.amo-inc.com/products/refractive/ilasik/intralase-fs-laser.
References: 1Market Scope q4, 2009 Data.
###
Contact
Laser Eye Center of Carolina
Dr. Dean Dornic
919-467-9955
www.visionauthorities.com

Contact