BioRegenerative Sciences Releases Breakthrough Hair Regrowth Product for Women
BioRegenerative Sciences, Inc. launches Hair Stemulating Complex for Women to regrow thinning hair. HSC uses a new patented technology featuring stem cell technology.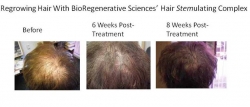 San Diego, CA, July 05, 2011 --(
PR.com
)-- BioRegenerative Sciences, Inc., (BRS), a privately owned stem cell therapeutics corporation headquartered in San Diego, CA, USA, announced today the release of Hair Stemulating Complex for Women (HSC), a unique, non-invasive and effective hair regrowth formulation. This breakthrough product will benefit the estimated 87 million people – in the US alone – who suffer from hair loss. BRS' clinical trials in both women and men have shown significant hair growth within 8 weeks following the daily application of the stem cell-based formulation.
Dr. Greg Maguire, CEO of BioRegenerative Sciences, said "HSC is formulated using BRS's core technology where the molecules from multiple stem cell types are used to mimic the natural healing and growth processes of the human body. Our S2RM TechnologyTM nourishes the scalp's stem cell niche where the hair and the hair's pigmentation develop." Dr. Sidney Clevinger, Medical Director at BRS added "For the millions of men and women who struggle with their hair loss, the results of our HSC trial indicate the potential for a highly effective treatment option that stimulates growth of new hairs along with increasing the thickness of existing hairs, doing so with increased natural pigmentation of the hair."
HSC represents a scientific shift from conventional treatment options to one that promotes the growth of new or dormant hairs using the body's own naturally occurring regenerative mechanisms. Estimates suggest that only 2-7% of the 87 million hair loss sufferers in the United States seek surgical or pharmacological treatment. Given the absence of effective medical options for this widespread condition, the data may be projected on a worldwide basis.
BRS' laboratories have also developed an anti-aging cosmeceutical product line based on the company's proprietary and patented technology: Vital Serum, Eye Serum and Moisturizing Night Cream, scheduled to roll out later this month. The launch of Hair Stemulating Complex for Men is planned for the 3rd Quarter 2011.
Hair Stemulating Complex is already available to consumers, and may be purchased at www.bioregenerativesciences.com. For more information, please email: sales@bioregenerativesciences.com, or call customer service at 877.892.9991.
###
Contact
BioRegenerative Sciences, Inc.
Dr. Greg Maguire
858.413.7372
www.bioregenerativesciences.com

Contact