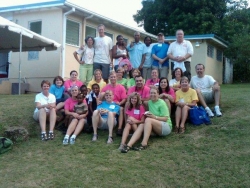 Iowa City, IA, July 13, 2011 --(
PR.com
)-- Leaders with the Issa Trust Foundation (www.issatrustfoundation.com) announced today a team of health professionals led by Dr. Stacy McConkey, University of Iowa Children's Hospital, will join the Foundation's efforts to improve the health of children in Jamaica this fall. The team will provide a series of free medical clinics targeting children in the St. Mary parish of Jamaica.
The team of 23 medical volunteers includes Paediatricians, biomedical engineer, pharmacists, Paediatric intensive care physician, Paediatric hematology oncology physicians, Paediatric cardiologist, general Paediatricians, Paediatric nephrologist, Paediatric nurse practitioners, and Paediatric nurses.
The Issa Trust Foundation (www.issatrustfoundation.com) has conducted annual medical missions since 2005. The organization plans to continue collaborating with clinics and local organizations in Jamaica to identify health needs, set health priorities for their community and facilitate collaborative strategies to make parishes in Jamaica to help meet their child mortality goals.
Issa Trust Foundation Paediatric Medical Mission – Couples Resorts
2011 Jamaica Medical Mission
9:00 a.m. to 4:00 p.m.
9:00 a.m. to 4:00 p.m. ... Ocho Rios, Jamaica
Tuesday, September 13th ... Retreat Clinic Health Centre
Wednesday, September 14th ... Annotto Bay Health Centre
Thursday, September 15th ... Port Maria Health Centre
Saturday, September 17th ... Couples Resorts Family
Monday, September 19th ... Islington Health Centre
Tuesday, September 20th ... Highgate Health Centre
###