HealthSaaS Licenses Connected Outcomes Framework to OHSU for International Educational and Clinical Outreach Project in Vietnam
HealthSaaS today announced licensing of their Connected Outcomes Framework to Dr. Beth Darnall of Oregon Health and Science University (OHSU) for an international educational and clinical outreach project in Vietnam. This project is supported by an education grant from the International Association for the Study of Pain® (IASP®)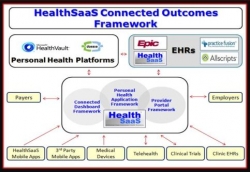 Clackamas, OR, August 03, 2011 --(
PR.com
)-- To kick off this clinical outreach project Dr. Darnall will travel to Vietnam to train Vietnamese physicians how to use mirror therapy so they may teach their patients and other clinicians. Mirror therapy training is relatively quick and simple. Patients can be taught how to perform mirror therapy after a 15-minute explanation by their doctor.
Innovative solutions are needed for managing patient data in developing countries and the HealthSaaS service enables doctors and researchers from any country to collaborate on a patient's treatment regimen, quality of life changes and outcomes. Dr. Darnall will assist in solving patient care issues in Vietnam as she uses HealthSaaS technologies to track treatment responses from OHSU facilities in Portland Oregon.
Dr. Beth Darnall of OHSU states "HealthSaaS technologies were a key differentiator in receiving the grant award from IASP. This project is exciting because we are using the latest technologies to facilitate "borderless" case consultation with real time access to actual patient data. Patients and caregivers in developing countries can use this cloud based technology to track how their pain changes over time as they use mirror therapy. This service also helps doctors and therapists to better understand the details of a patient's phantom pain, and to track patient outcomes. The best part is that patients, care providers and researchers can use the HealthSaaS Connected Outcomes Framework to access a patient's information anywhere there is a connection to the internet."
www.ohsu.edu/xd/health/services/pain-center/
Frank Ille CEO of HealthSaaS states "The HealthSaaS team is excited about marrying simple healthcare solutions with secure cloud-based services to help patients around the globe. The OHSU/IASP project is an efficient way to start helping the 580,000 amputees in Vietnam at a very low cost. This project perfectly exemplifies the core mission and philosophy of HealthSaaS. We are pleased to have the recognition of the IASP and are excited about what other outreach projects will come from this."
www.healthsaas.net
Phantom limb pain (PLP) is a condition that affects many amputees. Patients experiencing PLP report tingling, burning and "electric shock" sensations in the missing limb. Researchers believe these painful sensations are caused by a "misfire" in the brain that continues to send nerve signals to the missing limb.
The sensations can range in seriousness from mildly annoying to unbearable. Worse still, medications seem to have little effect on the problem, leaving health care providers – and patients – with few treatment options.
Mirror therapy, an inexpensive treatment for phantom limb pain may help the many amputees who suffer from PLP. The technique is simple: A patient holds a mirror vertically alongside the left leg so that it hides the missing right leg, and what they see is an image of two intact legs. Patients spend 25 minutes a day moving the intact limb in the mirror, exposing the brain to views of a functioning, pain-free limb.
The inventor of mirror therapy, Vilayanur Ramachandran, a physician and neuroscientist at the University of California in San Diego, says the treatment may work by eliminating clashing signals in the brain.
The brain areas long devoted to a limb that has been lost continue to project some level of awareness of that limb, but the eyes tell the brain it's gone.
"That discrepancy may be the cause of the pain," Ramachandran says. "Remove that, and the pain goes away."
About OHSU Comprehensive Pain Center
The OHSU Comprehensive Pain Center offers many treatment options for patients with acute and chronic pain. The Center provides the latest in treatment options using the most current of procedures, non-opioid medications, and multi-specialty treatment plans.
About HealthSaaS
HealthSaaS (HSI) is leading the Health 2.0 movement by creating cloud based health information technology solutions. HSI's patent pending Connected Outcomes Framework can aggregate disparate data from many sources including mHealth applications, cloud based services, Telehealth solutions and connected medical devices. The framework removes silo barriers and makes data available to clinician practices, provider networks, payors, self funded employers and EHRs.
About IASP
IASP is an international, multidisciplinary, non-profit association of nearly 8000 members in at least 120 countries worldwide. All members are involved in pain research or management of all forms of pain including acute, chronic and cancer pain. This year IASP awarded 15 grants for pain education projects in developing countries.
###
Contact
HealthSaaS, Inc.
Frank Ille
503-882-8951
www.healthsaas.net

Contact