JETprotect Corporation Provides ActiveSentry™ VFR™ Wide Area Security for Libyan Petroleum Assets
JETprotect, an innovator in the field of high tech surveillance equipment and analytics, announced today the application of their newest product – ActiveSentry™ Virtual Fence Radar™ for Libyan Petroleum Assets.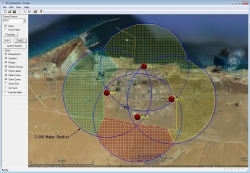 Santa Clara, CA, August 31, 2011 --(
PR.com
)-- Libyan petroleum facilities are ready to resume production but are still vulnerable to terrorism and destruction.
"Now that the current regime has been overthrown, Libya can begin rebuilding for the future of its citizens. A major component of Libya's rebuilding is to restore their oil production industry," said Gregory Johnston, CTO of JETprotect.
Most of Libya's Oil-Related assets are located in remote locations, using large areas of land for drilling operations, pipeline transportation, and refinery and storage facilities. Unfortunately, these remote global locations are more difficult to secure and are susceptible to attacks of terrorism and anti-government factions.
Below is the Site protection for the Seaport and Oil Depot at Raslanuf Port, on the Mediterranean. The 5 square mile Oil Depot is protected by four ActiveSentry™ radar units that see out 2500 meters beyond the perimeter fencing and provide intelligent, early-warning of approaching threats by land OR sea, long before the perimeter is reached.
This unique system replaces the need for multiple perimeter cameras and security guards watching monitors or walking perimeters. Thus, operational costs decrease and profits increase.
"The ActiveSentry™ VFR™ Virtual Fence Radar system will keep constant surveillance – automatically – day and night, in rain, snow or fog and will detect, geo-locate, track and alert of possible threats to the petro asset, with the most reliable, cost –effective sensory awareness protection available today," said Chuck Scifers, Director of Business Development.
"In addition, the importance of situational awareness and proactive threat alerts BEFORE the perimeter is breached can eliminate or significantly reduce any possible terrorist damage, saving millions of dollars in equipment, facilities and production losses," added Scifers.
This solution works with all remote, wide-area facilities such as nuclear plants, solar farms, refineries, weapon storage, etc. as a valuable addition to existing security elements.
Contact:
Chuck Scifers
Business Development
408-562-0001
chuck@jet-protect.com
8am to 6pm Pacific
About JETprotect:
JETprotect was founded in March 2008 and is located in Santa Clara, Ca. An R&D / manufacturing company that provides high-tech, harsh environment hardware and analytic software for surveillance and intelligence products for government agencies, corporate security and private safety.
Please visit us at www.jet-protect.com
###
Contact
Jet Protect
Chuck Scifers
408-705-1010
jet-protect.com

Contact